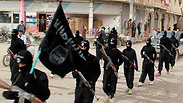 ISIS fighters in Syria. 'West appears to have missed its opportunity'
Photo: AP
With all due respect, and there is a lot of respect, the urgent problem at the moment is the rockets and mortar shells hitting the Gaza vicinity communities and the fear that the rocket fire towards the heart of the State of Israel will be resumed, but the more important problem requiring a solution is the fear of an Islamic tsunami reaching our shores.

Here, however, the "urgent" casts the important aside.

In the near future, we are expected to encounter a wave of Islamic attacks on the Western part of the world. The signs of this tsunami outbreak are already visible in Syria and Iraq, where ISIS members are slaughtering thousands of Muslim worshippers who don't accept their faith. These murderers justify all means to an end and all victims. The first to be slaughtered by them are Muslims who don't accept the radicals' way.

European Radicalization

Hundreds of Islamic State supporters call to murder and fight against the West, the Jews and the United States in a Holland rally.

This Islamic tsunami is the real danger to Western countries and definitely to Israel, the Jewish island in the Middle Eastern ocean.

According to the news flowing in from Iraq, the West appears to have missed its opportunity: The ISIS murderers are in the midst of a slaughter momentum and have managed to kill thousands, and some say even tens of thousands.

Hamas in Gaza is a small ISIS branch, and so it is the Israeli government and IDF's duty to fight back in order to prevent these waves of murder from spreading.

The Islamic tsunami is already rubbing against the Israeli shore, and even if it takes time, there is no doubt that we must think about what should be done against it and make all the preparations to stay alive.

Israel will find it difficult to withstand such a war on its own. This has to be the entire Western world's war, and Israel must use all its resources and abilities to convince that hedonist world to participate in the war.

The United States, which has always undertaken wars of this kind, is till hesitating. Israel must convince US President Barack Obama that if he fails to lift a finger in favor of the battle against the murderous Islam, the tunnel from Saja'iyya will reach below the Statue of Liberty in Manhattan, and the missiles exploding at the Eshkol region right now will explode in Boston's farmers market.

This is the link between the need to succeed in dealing Hamas a serious blow in Gaza as we speak and the Islamic tsunami which will threaten our lives in the coming years.