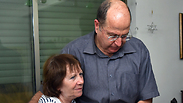 Ya'alon embracing Oron Shaul's mother
Photo: Ariel Hermoni, Defense Ministry
The body of Staff Sgt. Oron Shaul, who was declared a fallen IDF soldier whose place of burial is known, has been taken by Hamas, Defense Minister Moshe Ya'alon told Shaul's parents on Sunday.

"It's obvious to us that Oron's body is in the hands of Hamas, and we're making every effort to retrieve it," Ya'alon said, noting the efforts were on the diplomatic level - meaning in ceasefire talks with Hamas.

"Unfortunately we have a lot of experience with cases like this, and unfortunately I've encountered it during my military service," the former IDF chief of staff said.

Shaul was killed with six of his comrades when a Golani APC was hit with an anti-tank missile on the second day of the ground offensive. The bodies of the other six were identified but Shaul was missing in action.

The next day, Hamas announced it had kidnapped an Israeli soldier, naming Shaul in its statement. The news was welcomed on the Palestinian street with dancing and sweets.

After investigating the incident, the army has reached the conclusion Shaul's body was indeed missing, and he was declared missing. Shortly after that, he was declared a fallen soldier whose place of burial was unknown.

While Shaul did not have a funeral, the family sat shiva to mourn him.

Recent reports said Israel offered bodies of terrorists killed during Operation Protective Edge, along with some of the suspects arrested, in return to the bodies or remains of Shaul and Second Lieutenant Hadar Goldin.

Hamas has reportedly rejected that offer, and Israel stressed it would not pay for the bodies of the soldiers with living prisoners, and more specifically Shalit deal prisoners re-arrested during Operation Brother's Keeper, whose release Hamas demands.

Ya'alon arrived at the Shaul family home on Sunday evening, saying Israel "had an obligation to bring Oron to burial in Israel. We won't rest until that happens."

He promised to keep the family updated on any developments on the issue, "and my door is opened to you if you have any questions."

In a press release from the Defense Ministry it said Shaul's family members told Ya'alon of Oron's life, studies, hobbies and his great love of his Golani Brigade comrades.