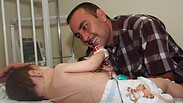 Wisam and his father in hospital in Israel
Photo: Courtesy of Save a Child's Heart
For Wisam, a 17-month-old Yazidi child, Israel is the place that saved his life, even as ISIS threatened his family in northern Iraq.

The toddler has been in Israel since June with his father, where he has undergone heart surgery through the Save a Child's Heart Foundation. The two arrived from northern Iraq, where ISIS forces are trying to eliminate the Yazidi minority.

Wisam was born with life-threatening congenital heart disease. his only hope was offered by the humanitarian organization, which gives children from developing countries access to expert cardiac care in Israel.

Related stories:

Wisam was invited to Israel for treatment at the Wolfson Medical Center in Tel Aviv. In June, he and his father, Abu Wisam, left their home town of Sinjar to head to Israel for treatment.

The two spent the summer in Israel prior to Wisam's surgery and were caught up in the Gaza conflict - running for shelter when the sirens blared.



However, Abu Wisam's concern is now focused on the family he left behind, including his wife and new-born twins, who are among the 200,000 Yazidi families who fled to Mount Sinjar to escape ISIS forces.

The Yazidis, followers of an ancient religion derived from Zoroastrianism, are spread over northern Iraq and are part of the country's Kurdish minority.

Islamic State militants have killed at least 500 members of Iraq's Yazidi ethnic minority during their offensive in the north, and buried alive some of their victims, including women and children. Some 300 women have been abducted as slaves,

Abu Wisam is desperately waiting to hear from his family, even as he cares Wisam, who is in recovery from his seven-hour surgery performed by heart surgeon Dr. Lior Sasson earlier this week.

Save a Child's Heart says it is dedicated to saving lives of children, regardless of race, religion, gender, nationality or financial status.

The organization and Wolfson Medical Center together set up a clinic dedicated to Palestinian children from the West Bank and Gaza who arrive for check-ups or admitted for heart surgery.

Children from Gaza were this week set to return to the clinic for the first time in three weeks.