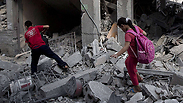 Destruction in Gaza following Israeli operation. 'Hamas depends on death'
Photo: AFP
For 26 years I have been devoting my life to the mission of defending human rights. I have seen wars and terror. And yet, the past month has been one of the most difficult times in my life.

I live in East Jerusalem and witness the destruction of life around me. Highway 1 has once again turned into the line separating between east and west. The Palestinians in the capital attacked traffic lights and damaged the Light Rail and power supply lines. But I cannot accept that as a social protest – it's pure vindictiveness.

Artificial Distinction

Op-ed: Fighting an enemy state with one hand while supplying food and energy to its residents with the other hand is absurd.

The coexistence I have been fighting for my entire life has been executed in the city square.

There is no doubt that the death and destruction Gaza has been hit by are like a tsunami. Both people are in pain, but each side denies the other side's pain, and so the pain gets worse.

And still, as a Palestinian, I must admit: I am responsible for part of what has happened. We can no longer deny our responsibility for the death of our own people.

Most of the Palestinians were against the rocket fire on Israel. They realized that the rockets would not give us anything. They called on Hamas to stop firing, knowing that it had paved the way for the death of its own people.

We knew that Hamas was digging the tunnels which would to lead to our destruction. We knew that three people live on every square meter in Gaza. And Hamas knew that an attack on Israel would lead to mass death, but it's leaders are more interested in their own victories than in the lives of their victims.

Indeed, Hamas depends on death, which gives it power and allows it to raise funds and purchase weapons. Hamas has never been interested in liberating the Palestinian people from the occupation. And Israel will never be able to destroy the infrastructures it has built. Only we, the Palestinian people, can do that.

It was the Gazan residents' responsibility to rebel against the Hamas rule. We knew what they were doing to us, but we let ourselves off easy and allowed it to happen.

Will all this death finally teach us a lesson? I hope so. The lesson is that we must get rid of Hamas and completely demilitarize Gaza. And then open the crossings.

I'm saying this as a loyal Palestinian. I'm saying this because I am concerned about my people's future.

Bassem Eid is a human rights activist and a political commentator.