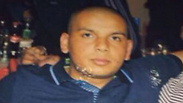 Israeli courts said Friday that they will be discussing a harassment prevention order requested by 26-year-old Mahmoud Mansour, an Muslim Arab resident of Jaffa who fears that The Organization for Prevention of Assimilation in the Holy Land (LEHAVA) plans to disrupt the happiest day of his life - his marriage to 23-year-old Morel Malcha, a Jewish Israel who also lives in Jaffa.

Some 800 guests are expected at the banquet hall ceremony in Rishon LeTzion on Sunday, but the far right LEHAVA group vehemently opposes intermarriage between Arabs and Jews and thousands are being added to the cost of the wedding in order to pay for significantly increased security measures.

This, according to Mansour, is the fault of police, who he says could take extra security measures themselves, but instead told him that the event could only take place if he personally paid for 33 security guards.

"I have to pay NIS 13,000 just on security," Mansour told Ynet. He added however, that the wedding would go on despite the increase in cost while the police gave no response to the situation.

"We are dealing with the situation and with the racist remarks from LEHAVA, and in light of all the opposition, we've actually decided to expand the wedding," said Mansour.

Related stories:

"Unfortunately, racism is spreading," Mansour told Ynet regretfully. "This racist organization has no right to decide who I marry. We will have a historical wedding with lots of guests and a famous singer. I want the whole world to talk about our wedding day."

The groom-to-be said that he had received several threatening phone calls and was cursed at more than a few times after his wedding with Morel was made public.

"Everybody needs to understand that the curses and the threats don't affect us, but actually makes us stronger," said Mansour. "People even are even asking to come to the wedding without being invited. This makes me very happy."

In an interview with Ynet, Mansour expanded on how his future wife is handling the threats saying, "We've known each other for almost five years and we decided to get married after she converted to Islam. She doesn't let LEHAVA upset her either. She's strong and has a lot of self confidence."

"She always tells me, 'I'm happy with you'. I'm proud of her and there's nothing that can destroy the connection between us."

Gilad Moreg contributed to this report.