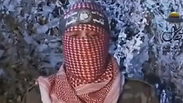 Hamas' military spokesperson
Hamas' military spokesperson said Wednesday that the their leader Mohammed Deif, wasn't killed or injured in an IDF attack on his home Tuesday night, as some reports had claimed.

In a televised statement, he also warned international airlines not to fly to Ben Gurion International Airport starting Thursday and said Israel "should not return to Cairo talks."

Thousands of Palestinians participated Wednesday afternoon in the funeral procession of the wife and 8-month-old son of Hamas military chief Mohammed Deif. The two were killed in an IDF attack Tuesday night on a house in Sheikh Radwan neighborhood in Gaza City.

The funeral procession left from a mosque in the Jabalia refugee camp in the northern Gaza Strip. Deif's condition remains unknown, but Hamas spokesperson Sami Abu Zuhri warned that "residents of Gaza-border communities will not return to their homes until Mohammed Deif decides."

An Al Jazeera reporter claimed that Israel used the ceasefire and the talks in Cairo in order to collect information on Deif and make an attempt on his life. According to the reporter, Deif had four children who were inside the residence during the IDF attack – one son was killed, a daughter was injured, and two were unharmed.

During the funeral, participants shouted their support for Hamas and Deif, calling on the al-Qassam Brigades to respond to the "massacre." There were reports of heavy UAV activity in the skies above the refugee camp throughout the funeral procession.

Meanwhile, the IAF has continued its airstrikes as militants in Gaza launched numerous salvos on southern Israel. The cabinet ministers have convened in Tel Aviv, though some said they were unsure whether they would be called upon to vote or make decisions on fundamental issues.

The ministers are expected to be briefed on the IDF's operations in Gaza – including the targeted killing in the Sheikh Radwan neighborhood – since rocket fire prematurely ended an extended truce.

Roi Kais and Attila Somfalvi contributed to this report.