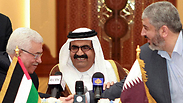 Palestinian reconciliation in Doha
Photo: AP
DUBAI, United Arab Emirates -- The explosions rocking the Gaza Strip may seem far removed from the flashy cars and skyscrapers of ultra-rich Qatar, but efforts to end fighting between Hamas and Israel could hinge on how the tiny Gulf Arab state wields its influence over a Palestinian militant group with few friends left.

Qatar has been home to Hamas chief-in-exile Khaled Mashal since 2012, when he was ejected from Syria by former ally Bashar Assad, and has carved out a role as a key financial patron for Gaza, buying influence while shoring up an economy overseen by Hamas.

That support is prompting accusations that Qatar helped scuttle a lasting truce in the month-long Gaza conflict, piling on pressure as the US ally finds itself increasingly isolated as larger Mideast powers marginalize Islamists following the Arab Spring.

Related stories:

An official from Palestinian President Mahmoud Abbas' Fatah movement suggested Wednesday that Qatar torpedoed the peace talks. After signs of progress last week, Hamas negotiators returned to the table after consultations in Qatar with new conditions -- prompting a similar response by Israel, he said.

The official, who spoke on condition of anonymity as he was not authorized to discuss the negotiations publicly, said the experience indicated the Qataris "have no interest" in seeing Egyptian-led talks succeed, and that Qatar and the Muslim Brotherhood are working together to undermine Egypt.

The London-based pan-Arabic newspaper Al-Hayat separately quoted a senior Fatah official saying Qatar threatened to expel Mashal if Hamas accepted an Egyptian peace proposal. It said Hamas demanded that Egypt grant Qatar a role in resolving the Gaza crisis, but Cairo rejected the idea until Qatar formally apologizes for its policies in Egypt since the military overthrow of Brotherhood-backed president Mohamed Morsi last summer.

Qatari officials could not be reached to comment on the claims. A Qatar-based spokesman for Hamas dismissed the Al-Hayat report as baseless and said it was an attempt to sabotage the negotiations.

"This is nonsense ... The nature of relations between Qatar and Hamas are not like that," Hamas spokesman Husam Badran told The Associated Press.

Khaled al-Batsch, a representative of the Islamic Jihad militant group, also denied Qatari interference. "We never felt at any point that there was a Qatari presence in the talks," he said.

An Israeli government official, speaking on condition of anonymity because he was not authorized to discuss the matter with journalists, said he did not know if Qatar actively encouraged Hamas to take a hard line, but said Qatar was at least indirectly responsible for the talks' failure.

"Qatar unfortunately has been part of the problem. They are the major supporter of Hamas," the Israeli official said.

Qatar at one point allowed an Israeli trade office to operate there -- a rarity in the Arab world -- before ordering it closed following a 2008 Israeli conflict with Hamas.

The outpost's former head, Eli Avidar, told the AP that he believes Qatar has "enormous influence" over Hamas and has been pushing Mashal to take a much more extreme position in negotiations.

"Right now Qatar is the main problem and definitely not part of the solution," he wrote in an email. "The ruling family in Qatar should understand that this is a dangerous game their emir is playing."

But in a development reflecting both Qatar's significance and influence over Hamas, the Gulf country's news agency reported that Abbas arrived Wednesday in Doha, where he was due to hold talks with Mashal and the emir.

It is hardly the first time Qatar has been accused of taking an unpopular stance in the region.

Saudi Arabia, the United Arab Emirates and Bahrain recalled their ambassadors from Qatar in March, saying it failed to uphold its end of a security agreement to stop meddling in other nations' politics and backing groups threatening regional stability. Analysts widely saw that as a rebuke of Qatar's support for Islamist groups and its activist foreign policy, including its backing of the Al-Jazeera satellite network, which has nettled governments across the region.

Qatar's leaders reject suggestions that they are behind Hamas, and insist that the Gaza funding is intended for those who live there.

"Qatar does not support Hamas. Qatar supports the Palestinians," Qatari Foreign Minister Khalid al-Attiyah told CNN in late July.

The former Qatari emir, Hamad bin Khalifa Al Thani, has at least publicly attempted to promote reconciliation between Hamas and the Western-backed Palestinian Authority that governs the West Bank. He brokered an interim unity government between Abbas and Hamas in early 2012, but that was never implemented.

Before the year was out, the emir traveled to Gaza, becoming the first head of state to visit the seaside territory since Hamas militants seized control in 2007. He launched more than $400 million worth of projects, including plans for housing, a hospital and roads, and called for Palestinian unity.

Khalil Shaheen, a political analyst in Ramallah, suggested the idea that Qatar is solely in Hamas' camp is overblown. He said it has also provided funding for Abbas' government and has not tried to tie its Gaza aid to Hamas' military activities.

"There never was a real crisis between Qatar and the Palestinian Authority even during the worst times between Fatah and Hamas," Shaheen said.

He said Qatar wanted a role in the ceasefire talks based on its good relations with Hamas and to show that Egypt is "not the only dominant player in the region."

For the US, Qatar plays a role that it often can't by acting as a go-between with groups deemed unsavory by Washington. It earlier this year brokered the release of U.S. Army Sgt. Bowe Bergdahl in exchange for five Taliban operatives in Afghanistan.

US State Department spokeswoman Marie Harf described the Qataris as "a key partner" in the effort to forge a peace deal in Gaza earlier this week, before talks collapsed. Responding to questions about whether they support terrorism and Hamas, she said they play a key role in getting Hamas to agree to a ceasefire.

"We need countries that have leverage over the leaders of Hamas who can help get a ceasefire in place, and Qatar certainly plays that role," she said.