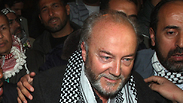 George Galloway, a British lawmaker known for his anti-Israel positions, was taken to a hospital with a suspected broken jaw after he was assaulted in a London street.

The Respect Party MP for Bradford West sustained a suspected broken rib and bruising to his face in the attack which occurred on Friday evening as he posed for pictures with people in the Ladbroke Grove area.

A man shouted a comment about the Holocaust and attacked the MP, the 60-year-old's spokesman said.

"George was posing for pictures with people and this guy just attacked him, leapt on him and started punching him," said the spokesman.

Related stories:

"It appears to be connected with his comments about Israel because the guy was shouting about the Holocaust."

Galloway was interviewed by police earlier this month following a speech in Leeds in which he claimed Bradford was an Israeli-free area.

Galloway was questioned voluntarily following complaints made after he urged his constituents to boycott Israeli goods, services, academics and tourists in a speech he made on August 2. His spokesman said he cooperated with police.

Galloway had described himself as being in "pretty bad shape" following the assault Friday, the spokesman said.

A Metropolitan Police spokesman said: "Police were called at approximately 1940 hours to Golborne Road, W10, after a man was assaulted in the street.

"Officers attended. The suspect was found a short time later and stopped.

"He was arrested on suspicion of ABH (actual bodily harm) and taken to the south London police station where he remains."