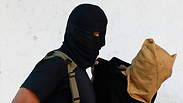 Hamas executions
Photo: Reuters
The Shurat Hadin Israel Law Center has filed a criminal suit with the International Criminal Court in The Hague against Hamas' political leader Khaled Mashal for the execution of some 38 Palestinians during the Gaza conflict.

The suit was made possible due to Mashal's Jordanian citizenship. Jordan is a member of the court.

The organizations chairwoman, lawyer Nitsana Darshan-Leitner explained that "the (ICC) is required to exercise its authority in any case in which a citizens of a member nation has allegedly committed a war crime."

In the suit, the advocacy group claimed that Mashal "implements the Islamic terror group's murderous policy and thus facilitated the murder of 38 Palestinian citizens suspected of anti-Hamas activities and cooperating with Israel. According to international law, execution of citizens without trial is a war crime."

According to the group, this is the first time the court could try a terror activist on the basis of his Jordanian citizenship: "Jordan is not interested or capable of asking Qatar to extradite Mashal from his safe haven so he can face trial. Moreover, it has never demanded any Hamas leader with Jordanian citizenship face the consequents of their war crimes."
Bread and circuses
Last week, After Hamas' string of public executions in the Gaza Strip garnered intense criticism, with Palestinian officials and human rights organizations calling them "provocative" and "grossly unfair", senior Hamas leader Moussa Abu Marzouk has offered an unconventional perspective on the matter, saying that the actions were conducted in public in an attempt to satisfy the Palestinian people's desires.
Abu Marzouk's comments were made in an interview with al-Jazeera on Friday while he was in Qatar, where he met with Khaled Mashal to discuss the next steps after the collapse of ceasefire talks in Cairo.
During the interview, Abu Marzouk was asked whether "the information regarding the 18 informers (was) based on real time information, or did you already have the information at hand without conducting the execution, but the decision (to execute) was made today?"
The Hamas official's answer was surprising: "No, basically there were already sentenced to death, but the execution was done collectively today (Friday)."
"It is possible that this step was taken to satisfy the public in this matter, without considering other legal measures that should have been taken," Abu Marzouk added.