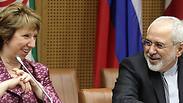 Zarif and Ashton
Photo: Reuters
The office of European Union foreign policy chief Catherine Ashton confirmed Thursday Iran and six world powers would hold their first negotiating round since they failed to meet a July 20 target date for an agreement in New York on September 18.
Ashton's office also confirmed that Iran and France, Britain and Germany would meet in Vienna on September 11. Ashton is the coordinator of contacts with Iran on behalf of the six powers.
On Wednesdaym US officials said negotiations between the United States and Iran will resume in Geneva on Thursday and Friday.
"Deputy Secretary of State William J. Burns, Under Secretary for Political Affairs Wendy R. Sherman, and Senior Advisor Jacob J. Sullivan will meet with Iranian officials in Geneva on September 4-5," the State Department said in a surprise late-night statement.
Deputy Foreign Minister Abbas Araghchi, one of Iran's chief negotiators, is also at the discussions, which Iranian news agency IRNA said would last until Saturday.
Global powers and Iran agreed in late July to extend a deadline to reach a comprehensive and complex deal on curbing Tehran's nuclear ambitions until November 24.
The negotiations being led by a group known as the P5+1 had been expected to resume on the sidelines of the UN General Assembly later this month in New York.
"These bilateral consultations will take place in the context of the P5+1 nuclear negotiations led by EU High Representative Catherine Ashton," the State Department said in its announcement.
State news agency IRNA and a US official confirmed the discussions were underway. "If there is good will and a constructive approach, we can reach a desired result before November 24," IRNA quoted Iran's deputy foreign minister Majid Takht-Ravanchi as saying late on Wednesday.
The United States last week penalized a number of Iranian and other foreign companies, banks and airlines for violating sanctions against Tehran, saying it was sending a signal that there should be no evasion of sanctions while talks continue.
Iranian President Hassan Rouhani said on Saturday the sanctions were against the spirit of negotiations, but added he was not pessimistic about the viability of the talks.
Earlier this week, Iranian Foreign Minister Mohammad Javad Zarif said he had "good discussions" with Ashton and Tehran was committed to an accord over its contested nuclear program.
Quoted by the Belga state news agency, Zarif said he was "fairly optimistic" after talks in Brussels on Monday with Ashton that Iran and the five permanent UN Security Council members - Britain, China, France, Russia and the United States - plus Germany could reach a deal by the November deadline.
The West suspects Iran wants to acquire nuclear weapons but Tehran insists the program is purely for peaceful purposes.
In exchange for accepting curbs on its nuclear activities, Iran wants a vast array of US, EU and UN sanctions to be lifted.
But any deal will have to be approved by the Islamic leadership in Tehran as well as by the US Congress, where many lawmakers are seeking to impose even greater sanctions on Iran.
Better prospects with Ashton's successor
On Wednesday, Zarif said Iran was looking forward to improved relations with the European Union following the appointment of an Italian to be the bloc's next foreign policy supremo.
Zarif's comments came after talks with Federica Mogherini, the current Italian foreign minister who will shortly take over from Britain's Catherine Ashton as the public face of EU relations with the rest of the world.
Zarif said the crisis in Iraq and Syria demonstrated that the EU and Iran need to work together to address common challenges.
"The same challenges (Iran faces) are before the EU, both as international security and local and domestic security.
"The very sad fact a very large number of foreign fighters are now in Iraq and Syria brings this issue very close to home here in Europe.
"So I think we have common ground both in terms of opportunities for great cooperation, greater economic development, dialogue on human rights as well as cooperation to address these common challenges.
"This mixture... should provide us with a basis for better work together particularly with the role Italy has played as a bridge between Europe and the Islamic world. That role can be further enhanced by the role Mrs Mogherini will play as the High Representative of Europe."
Mogherini's first major goal in her new job will be to wrap up a deal with Iran on the Islamic state's contested nuclear program. The Italian minister said her discussions with Zarif had left her hopeful that could be achieved.
"We have said that an agreement ought to be reached by November in order to guarantee greater stability in the region," Mogherini said.
"It is my hope the negotiations will have a positive outcome and that this will be done by November 23, the agreed deadline.
"I was assured that there is a strong political will in Tehran for this to happen and we hope that there will also be the necessary technical steps taken."
Mogherini said Italian officials had been in close discussions with their Iranian counterparts on how to bring stability to Iraq/Syria.
"We share a belief in the need to respond with a military presence in the emergency situation we are in but above all we believe in the need for an inclusive government in Baghdad," Mogherini said.