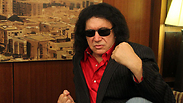 Gene Simmons. An ardent supporter of Israel
Photo: Ofer Amram
Is veteran American hard rock band Kiss on its way to Israel? That's quite possible, at least according to an announcement made by frontman Gene Simmons on his Facebook page.

In a post published by the musician last week, he concluded the first part of his band's joint tour with Def Leppard, which came to an end recently in Houston, Texas.

Hot Winter

Undeterred by recent Gaza conflict, legendary American rock and pop band will perform at Tel Aviv's Nokia Arena on November 29.

After thanking the road crew, he wrote: "But it ain't over. We're just beginning. Europe. South America. Japan. Australia. SE Asia. ISRAEL, and more. We have just begun to rock..."

Simmons, 61, was born Chaim Witz in the northern Israeli city of Haifa to a mother who survived the Auschwitz death camp, and immigrated with his family to the United States when he was eight years old. He still has family members in Haifa and visited the city in 2011.

He co-founded Kiss in the 1970s and turned it into one of the greatest rock bands of all times. In the past few years he has been involved in several television projects, including his own reality show.

Simmons is the band's bass guitarist/co-lead vocalist and is known by his stage persona "The Demon," which drools fake blood. He is also known for his marketing skills, and over the years he has managed to turn Kiss into an empire of merchandise, starting from clothes and credit cards to coffins with the band's symbols.

Although the band has never performed in Israel before, it has expressed its support for the Jewish state and refused to take part in any cultural boycott against it.

"As an American, there is no choice but to be supportive of Israel," Simmons said in an interview. "This is the Holy Land, and it's no secret that everybody in America perceives Israel as its only real friend in the Middle East – who else are you going to rely on?"