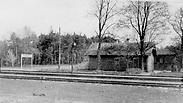 The Sobibor death camp
Photo courtesy of Yad Vashem Archive
Nearly 250,000 Jews were murdered in Sobibor, one of the six death camps the Nazis built in Poland as part of their "final solution to the Jewish question." None of these Jews have a grave. They were brought to the camp in the Lublin area and poisoned to death in gas chambers, and their bodies were burned or thrown in pits.

But some of them will soon get a grave thanks to the initiative and efforts of the From the Depths association, led by Jonny Daniels. Daniels has succeeded in convincing the Polish authorities to allow him to collect the bones scattered at the former death camp and the surrounding woods.

70 Years On

Russia, Poland mark 70th anniversary of biggest and most successful prisoner escape under Nazi regime led by Red Army officer of Jewish origin.

As a result of the decades that have passed since then and the bad weather conditions in the area, many human bones lie exposed on the earth. Occasionally, attempts have been made to deal with the issue, but the Polish authorities have refused to allow it for different reasons.

Now, the agreement and required cooperation have been obtained, and students from different universities have volunteered to help gather the bones.

Daniels brought an anthropologist from Poland to the area, as well as the Chief Rabbi of Poland Michael Schudrich. Representatives of the Chief Rabbinate, the ZAKA emergency organization and students are arriving from Israel these days to join the operation.

Next month, after the Jewish holidays, once the bone gathering is complete, an official ceremony will be held in Sobibor in the presence of hundreds of dignitaries from Poland and Israel, including the chief rabbis, Knesset members, IDF representatives, Holocaust survivors, high school students and delegations from the United States and Europe. A similar ceremony will take place in Jerusalem later on.

It has not been decided yet whether the bones will be buried in Israel or in Poland.

The ceremonies will also mark the 71st anniversary of the revolt of 600 prisoners held in the camp for different jobs, of whom only 60 to 80 survived. The rest were slaughtered by the Germans and their Ukrainian aides.