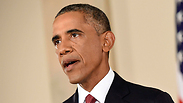 Obama is about to get America and its allies involved in a war he never wanted
Photo: Reuters
In his worst nightmares, Barack Obama never saw himself initiating a war to destroy an entity, but ISIS left him no choice. Against his own will, Obama is about to wage a war he was dragged into extremely reluctantly.

Even before building his strategy for the presidential race, Obama positioned himself as a statesman who opposed the war in Iraq. In Chicago's public squares, he delivered fiery speeches, claiming that he was not against wars in principle, only unjustified ones.

Jihadist Group

US president lays out strategy against threat of Islamic State militants to include greater support for Syrian moderates; House Speaker: 'Speech is not the same as strategy'.

He was among the 20 percent who opposed the war at the time, and he said it out loud. Several years later, it was one of the reasons he was elected president.

Now Obama finds himself leading the American army back to Iraq, and Syria too, albeit in a more limited form. The Islamic State fighters left him no other choice.

The war, which will go down in history as the one waged by Obama, is a war against evil, cruelty, extremism; it take aim at the group that spat in the face of the American nation when it disregarded its warning and brutally and ostentatiously executed some of its citizens.

Obama took quite a while before deciding on a response. At first he said, candidly, that he had no clear strategy against ISIS. He then changed his tone and clarified that his goal was to destroy the Islamic State organization, even if this is not achieved immediately, but over time.

Obama, who received the Nobel Peace Prize in the immediate aftermath of his election as president - a down payment for the peace he would bring in the future and the reconciliation he promised - is about to drag America and its allies into a war he never wanted.

Although his liberal supporters understand that the president cannot sit idly by in the face of such horrors, they are asking time and again, with disappointment and bitterness, what actually prevented Obama from remaining loyal to his worldview, the one which brought him to the White House. Why didn't he give reconciliation between the West and Islam a real chance; why he didn't really end the wars Bush started, and why he didn't shut down Guantanamo Bay prison as he had pledged on his first day at the White House.

Liberals, who basically make up half of America, believe that if Obama had done just that in his six years in office, they wouldn't had to have reached a situation in which the government's hand draws ever closer to the trigger, and the president's words sound remarkably similar to the comments made by Bush in the aftermath of the attack on America that took place exacrly 13 years ago today.

So now Obama sounds more and more like his predecessor, and those who know him personally say even he can't believe it's happening to him. But it is.