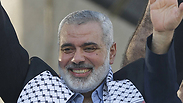 Deputy Head of the Hamas Political Bureau, Ismail Haniyeh vowed on Saturday that the militant group would never agree to disarm "in exchange for the rehabilitation of the Strip or for anything else."
"Until Palestine is liberated, the weapons of the resistance are legitimate," Haniyeh said in a speech on Saturday in Gaza. "The weapons of the resistance are a red line."
Haniyeh stressed that the group would never conduct direct negotiations with Israel. Earlier this week, Senior Hamas official Mousa Mohammed Abu Marzook said the group could be forced to negotiate directly with Israel – something it has never done before.
But Mashaal said this would not happen.
"Direct negotiations with the Israeli occupier is not on the agenda of Hamas; if negotiations are necessary they must be indirect," he said.
Related stories:
In his speech on Saturday, Haniyeh slammed US policies, claiming that the American stance was biased in favor of Israel. "We need to develop a national strategy and concentrate our efforts towards bringing the Israeli leadership before an international court," the senior Hamas official said.
The EU is trying to promote ceasefire negotiations between Israel and Hamas, and aims to start talks towards the end of next week in Cairo.
Until now, Hamas has rejected any formal negotiations with Israel. Previous talks, such as the deal to free captive IDF soldier Gilad Shalit and ceasefires after rounds of fighting in Gaza before Protective Edge, were only conducted indirectly through third parties.
After the final ceasefire was reached three weeks ago, informal understandings were drawn up to form an outline on which future talks would be based.
These discussions will address the opening of the Gaza border crossings, entry of humanitarian aid and building materials into the Gaza Strip, and the expansion of the fishing area for Gaza fishermen.
AFP contributed to this report.