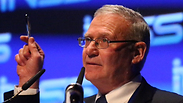 Amos Yadlin
Photo: Motti Kimchi
In a Western democracy such as Israel - it is every citizen's right to express his or her opinion freely. This right is especially important to exercise when dealing with issues that are at the heart of the political agenda, such as the peace process, or the future of the territories conquered by the IDF in 1967.
Having said that, the current campaign of the "8200 conscientious objectors" has little to do with legitimate expression. It reeks of a calculated political campaign that cynically takes advantage of the hard-earned reputation of one of IDF's most prestigious units.
In my years as Chief of Military Intelligence, I had the privilege of commanding 8200, a unit that has situated itself over the past decade in the forefront of the effort for defending Israel. Through its actions, unit 8200 has won international acclaim as a model of efficiency and innovation in the fields of intelligence collection and covert warfare, turning Israel into a "cyber superpower."
Related stories:
Last week, a group of 43 reservists took advantage of the unit's phenomenal success in order to make a politically controversial argument. Before even getting to its content, grave doubts are cast over the identity of the letter's signatories as their full names were not disclosed - not in the official press nor across the social media networks. This is the definition of acting irresponsibly, as there is no value to a political statement made by those not willing to assume responsibility over it.
Cynically benefitting from the reputation of 8200 is also unfair towards the signatories' peers and colleagues. The Israeli intelligence corps - much like the IDF to which it is part of - is a conscript's army that represents the entire nation, including soldiers with opinions that span across the entire political spectrum. The decision of a few dozen reservists to gain publicity for their political agenda by exploiting the reputation of a unit numbering many thousands of officers, soldiers and NCOs, in reserves as well as in active service, is an unfair move that misrepresents the entirety of this unit.
The profession of intelligence collection is a highly challenging one, both in operational terms as well as in the ethical considerations it requires. Much like other fields of military action, the world of intelligence is far from being sterile. An intelligence body does not operate by the same rules as a summer camp or a human rights organization. Intelligence gathering is a high-stake business that bears direct impact on questions of life and death, and that has strategic impacts on a country's national security. Anyone that has experienced the world of intelligence from within can attest to that. It is a serious operation whose contribution to the security of Israel is often times priceless. Indeed, there are hundreds or perhaps thousands of Israelis among us today whose lives were saved by untold intelligence operations.
Moral dilemmas exist in every intelligence collection operation but there are also rules, ethics and norms of conduct that are observed in each and every of these situations. These norms are efficiently supervised and enforced within the IDF's intelligence corps and inside 8200. They are based on decades of intelligence work, they rely on Israel's laws, and are congruent with Western and international standards. As evidence, even the German Chancellor Angela Merkel has proven not to be immune from the long arm of the American NSA, and neither are the Palestinians.
Unit 8200 operates diligently in all the arenas that threaten Israel's security: Syria, Hezbollah, Iran - and yes, also in the Palestinian territories. As a collective, Palestinian society poses threats to Israeli citizens such as terror attacks and suicide bombings, and it is the IDF's mission to preempt and prevent such hazards. To thwart these threats long before they materialize, an ongoing collection effort is necessary, across the calendar, aimed at exposing the most intimate secrets that the enemy efforts to hide. In order to obtain such sensitive information, the IDF's intelligence unit are often required to exercise deception and manipulation in very sophisticated ways.
In the Israeli public discourse, however, it would be better to have less manipulation and less eschewed depictions of the IDF's top-tier units. In contrast, what we need is more transparency on the identities of those behind this letter, and more appreciation for the important work done by the soldiers, officers and NCO's of excellent units such as 8200.
Major-General (res.) Amos Yadlin is the director of Tel Aviv University's Institute for National Security Studies (INSS) and served as head of the IDF's Military Intelligence Directorate.