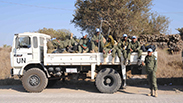 UN soldiers near Syrian border (archives)
Archive photo: Avihu Shapira
Hundreds of members of UNDOF, the United Nations Disengagement Observer Force stationed on the Syrian side of the Golan Heights, crossed the border into Israel on Monday, after recent clashes with al-Qaeda-linked militants.
The UN peacekeepers are being "relocated" from four positions and one camp on the Syrian side of the Syrian-Israeli border, a diplomatic source said, after recent altercations with the al-Qaeda-linked Al Nusra Front, figting to oust Syrian President Bashar Assad.
(VIDEO: Avihu Shapira) (צילום: אביהו שפירא)
"Staff in UN positions 10, 16, 31 and 37, as well as Camp Faouar on the (Syrian) side are being relocated," the source told Reuters on condition of anonymity.
There was no suggestion that the UN peacekeeping mission in the Golan Heights, known as UNDOF, was shutting down. Last month 45 UNDOF peacekeepers were kidnapped by Islamist militants fighting the Syrian army. They were released last week.
The UN mission has 1,223 troops from six countries: Fiji, India, Ireland, Nepal, Netherlands and the Philippines. A number of countries has withdrawn their peacekeepers due to the escalating violence.