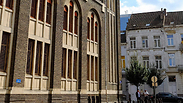 Brussels synagogue
Photo: EPA
A Belgian synagogue was the target of a suspected arson attack early Tuesday morning in the Anderlecht neighborhood of Brussels.

Jewish community officials said it was not immediately clear whether it was an anti-Semitic attack, although the building had been the target of petrol bombs in 2010.

Belgian newspaper La Derniere Heure reported that three family members were inside the house of worship and suffered from smoke inhalation, but were in light condition. Local police believes that one or more suspects infiltrated the structure after 5 am.


The victims, a woman and her two children, were family members of the synagogue's caretaker, who was not on the premises last night. After the fire erupted, they called the fire department, which quickly controlled the blaze.

There were no reports of significant damage to the structure or to any holy books.

Laurens Dumont, a spokesman for the city prosecutor said "it would seem that the fire was set deliberately" at the synagogue in the Brussels neighbourhood of Anderlecht near the main train station, but the investigation was in its early stages.

"All leads are open," Dumont said.

A fire department spokesman quoted in La Derniere Heure newspaper said arsonists started the fire in the fourth floor of the synagogue in the early morning hours.

An official from the neighborhood's Jewish community, Jehuda Guttman, told the newspaper he did not know for now whether the event was anti-Semitic.

"If this act had been anti-Semitic, the perpetrators would have burned the Torah, sacred books. And that's not the case. I can only guess. Here, we live in peace with everyone," he was quoted as saying.

The fire came just two days after the reopening on Sunday of the Jewish Museum in Brussels, where four people were shot and killed on May 24.

The Belgian paper noted that 60 families attended the synagogue, with 240 worshippers.

On Sunday evening, stones were thrown at a group visiting the National Memorial to the Jewish Martyrs of Belgium, which is also located in the Anderlecht district.

AFP contributed to this report.