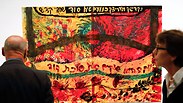 Rootless Jews exhibition in Berlin
Moshe Gershuni's expressive, historically loaded art, which places symbols of the Holocaust in a religious setting and seeks to polarize opinion about current Israeli society, seems unlikely to reward the casual viewer.

Titled "No Father No Mother", the retrospective of paintings and ceramics since 1979 in the New National Gallery is the first solo show by an Israeli artist to be opened at Berlin's premier location for modern art.

Related stories:

The focus is especially poignant in Germany, where a Jewish population of over half a million in 1933 was annihilated in the Holocaust, with just 30,000 surviving by 1945.

"His paintings evoke haunting, even oppressive notions of rootlessness and detachment connected with the horrors and atrocities of the 20th century or with the diaspora," said Udo Kittelman, director of the New National Gallery.

Born into a Polish-Jewish family that emigrated to Tel Aviv in 1936, Gershuni is one of Israel's most renowned artists, with work in New York's Museum of Modern Art and the Tate Britain.

Crawling on paper-covered floors and painting with his hands, he invests physically and emotionally in his art – and unlocking its power often calls for a gaze that is equally intense.

The Jewish Star of David, the Nazis' swastika and Islam's star and crescent appear side by side amid colorful flower-like forms, phallic symbols and Hebrew script.

Created using thick glass paint and industrial varnish, the vibrant colors of his political and religious motifs appear almost luminous.

Standing in the center of the exhibition are Gershuni's "Jewish Ceramics", boldly branded with thick black swastikas. Bright, blood-red fingerprints stain the rim of a serving plate inscribed with Hebrew and a yellow Star of David.

A wall installation reading "Who's Zionist and Who Isn't" in Hebrew bears particular significance this year as Israel has faced considerable criticism due to tensions in Gaza.

"The world according to this work is divided between Zionists and anti-Zionists," said Ory Dessau, the co-curator. "Gershuni in this work is very demanding and categorical. He forces the reader to choose a side."

Although Gershuni's works are politically charged, Dessau sees the retrospective as an opportunity for the international community to get a different perspective on Israel.

"I believe Gershuni can help people understand Israel, and Tel Aviv, as a source of cultural production, and not just political conflict," he said.

Lior Wilenzik, one of a growing number of young Israelis flocking to Berlin's vibrant art scene, expressed similar hopes: "Germans and Israelis can now come together in the world of art – not just in politics. Gershuni has opened the gate."