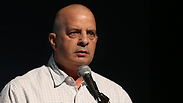 Former Shin Bet head Yuval Diskin
Photo: Tzvika Tishler, Yedioth Ahronoth
Former Shin Bet head Yuval Diskin slammed Prime Minister Benjamin Netanyahu and Defense Minister Moshe Ya'alon for what he described as an undemocratic and uncooperative culture in the Cabinet, a small forum of ministers charged with making Israel's most important security related decisions.

In a Facebook post, Diskin, who in his former capacity attended countless Cabinet meetings, said "there is little regard for Cabinet ministers by the prime minister and defense minister. Over the years, these meetings have fallen almost completely under their control."

His comments came after it was reported that Brig. Gen. (res.) Avichai Rontzki, the former Chief IDF Rabbi, was dismissed from reserve duty after providing Economy Minister Naftali Bennett with classified information during Operation Protective Edge. Bennett requested and used the information during Cabinet meetings, and according to some, was the sole dissenting opinion in arguments against Ya'alon.

Related stories:

During the operation, claims that ministers were being kept in the dark about fighting as well as alternatives to the IDF's battle plans were rife. Diskin backed Bennett and elaborated on this claim.

"The prime minister and defense minister control every aspect of the (Cabinet's) debate, from the agenda to the level of intelligence information available to ministers for each issue… the discussions are held for the sake of a vote and not a debate," Diskin wrote.

Regarding Bennett, Diskin said "the fact that Cabinet member Bennett decided not to trust their information, took initiative, learned the information and came prepared to Cabinet meetings and challenged the (forum) – is praiseworthy."

Diskin, a possible contender in the next elections, spared no criticism for the Cabinet ministers themselves: "They have become extras in many discussions, they come illprepared and I have witnessed a number of cases in which some didn't even know what was on the agenda, despite the fact it was published ahead of time,"

According to reports, Rontzki passed Bennett information on orders given to soldiers on how to deal with the tunnels threat.

Diskin said that though he "condemns any leaking of classified information by either soldiers or officers… but there needs to be a process where, on the one hand, Cabinet ministers receive comprehensive information they need to participate in the discussion, while on the other hand, the information remains secret"

Throughout the operation, on numerous occasions, Cabinet ministers openly expressed their views on sensitive issues with the media.