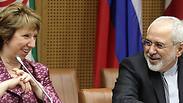 קטרין אשטון מוחמד זריף איראן שיחות גרעין
Photo: Reuters
"Israel is very concerned. We feel that the negotiations with Iran are going in the wrong direction," Minister of Strategic Affairs Yuval Steinitz said Wednesday ahead of a meeting between EU foreign affairs head Catherine Ashton and Iranian Foreign Minister Mohamad Javad Zarif for further talks on Tehran's contested nuclear program.

Meanwhile, the office of Iran's supreme leader published a series of graphics on Wednesday highlighting how little he believes the country has gained from dialogue with Washington as nuclear talks resume. The graphics posted on Ayatollah Ali Khamenei's official website include a cartoon of US Secretary of State John Kerry standing and pounding the negotiating table flanked by aides.

"The military option is still on the table if Tehran wants to relaunch its uranium enrichment program," the cartoon Kerry thunders.

"Dialogue with the Americans has not reduced their animosity and has not been useful," the graphic complains, quoting Khamenei's words in an August 13 speech.

"The Americans' tone has become tougher and more insulting."

A separate graphic sets out the US economic sanctions still in force against Iran and the fines totaling 9.5 billion dollars (7.3 billion euros) imposed on international firms for breaching them.

Khamenei's office did stress he had authorized the continuation of nuclear talks with major powers that are to resume in New York on Thursday, despite his misgivings about the lack of benefits from the dialogue with the United States.

President Rouhani opened the dialogue with an historic telephone conversation with President Barack Obama on the sidelines of the UN General Assembly last September.

It is still unclear whether Rouhani will attend this year's General Assembly which opens next week.

Khamenei has the final word on all matters of state in Iran.