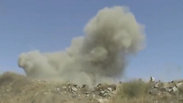 The mortar explosion
Photo: Avihu Shapira
In yet another case of spillover fire from the Syrian conflict, a mortar fired from Syria hit the Israeli side of the Golan Heights Wednesday, landing just meters away from a Ynet news crew.

Film: Avihu Shapira (צילום: אביהו שפירא)

The mortar hit a mine field and caused a small fire. No injuries were reported and the IDF said that the shell was missfire from combat in Syria, but that it had been fired some distance from the border fence.