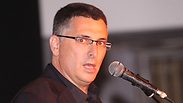 Sa'ar at Petah Tikva, Wednesday
Photo: Motti Kimchi
Interior Minister Gideon Sa'ar, who is considered one of the most powerful figures in the Likud party, dropped a political bombshell on Wednesday when he announced his decision to take a "time-out" from political life.
Hundreds of Likud activists who came to a New Year's toast event in Petah Tikva were shocked to hear the message. "We thought that Gideon would announce that he's running against Netanyahu, we wanted to crown him as the king of the Likud, and suddenly he announced his retirement, out of nowhere," one of the activists who came to the event said.
"We did great things together, you and I," Sa'ar said to the astonished audience.
Sa'ar announced that he would quit the government and the Knesset after the High Holidays. He emphasized: "I am leaving my job, but I am not leaving the Likud."


The convention, which took place at Kfar Maccabiah, where the Likud leadership, including Minister Yuval Steinitz, MKs Tzachi Hanegbi, Miri Regev, Ofer Akunis, Yariv Levin, Tzipi Hotolevy, Danny Dannon, and former minister Avi Dichter. Local leaders and other senior Likud members were in attendance, as well.


Sa'ar listed his achievements over the years to the assembled political activists. "I had a major role in preventing a Livni government in 2008," he said, while mentioning that he was part of the negotiating team that helped build a coalition that lasted four years.
Sa'ar also said that he helped write the "infiltrators law" and that he helped support Negev communities. "We proved that you can make a big change in the Negev."
"I look back at 20 years of public service and the 12 years that I have represented you in the government and the Knesset, and I feel an immense satisfaction of my work for the people of Israel and for its country," he said towards the end of his speech.
"All of these achievements are ours. Without you, without your support and your affection, I could not have done a thing."
He mentioned that, as education minister, he reformed the kindergartens, established Ariel University, and brought half a million students a year to visit Jerusalem. Sa'ar said that as interior minister he extended the daylight savings. "Decades they talked about it, and it took me a few months."
Sa'ar said he would spend more time with his family. "Soon, my son David will take his first steps; I want to walk with him hand-in-hand."
Last year, Interior Minister Gideon Sa'ar and Channel 1 anchorwoman Geula Even announced their decision to get married, after an intense six-month relationship.
Sa'ar, 47, split from his wife and mother of his two daughters, Shelly, about a year ago. Even, 41, divorced her husband, Amit Oberkovich, last year, after 20 years of marriage and three kids.