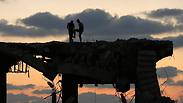 Palestinians stand atop a damaged building on a beach during sunset in the northern Gaza Strip
Photo: Reuters
A deal reached on war-battered Gaza's reconstruction is set to be implemented in the coming months, with the amount of building materials entering the territory expected to quadruple, a UN official said Wednesday, in the first details of the agreement to emerge.

James Rawley, a UN Mideast envoy, said that under a mechanism agreed to by the Palestinians, Israel and the UN, up to 800 truckloads of construction materials will enter Gaza per day – a jump from the 200 or so trucks that enter now, he said.

"This facilitates recovery and reconstruction of Gaza and we're hoping that this step in the right direction will set the stage for an even more meaningful opening of the crossings," Rawley, the deputy UN envoy for the Mideast peace process, told The Associated Press.

The details of the deal are a crucial part of Gaza's rebuilding after the 50-day war this summer that pulverized parts of the territory, flattening entire neighborhoods and reducing houses to rubble.

The agreement comes ahead of a donor conference in Egypt next month, where international benefactors will be looking for guarantees that their pledges materialize into actual construction. Palestinian officials estimate rebuilding Gaza could cost $6 billion.

The UN says some 18,000 homes were destroyed or severely damaged in the fighting.

More than 2,100 Palestinians were killed in the war, about three-fourths of them civilians, according to Palestinian and UN officials. On the Israeli side, 66 soldiers and six civilians were killed. Israel and Hamas agreed to a cease-fire last month.

Israel and Egypt imposed a blockade on Gaza after Hamas overran the territory in 2007. The embargo was meant to isolate the Islamic militant Hamas and perhaps loosen its grip on power.

Trade and travel has been severely restricted, and the entry of goods – including construction materials – has also been limited. Israel says Hamas has in the past diverted cement and steel imported for schools and homes for military purposes, including to build underground tunnels used in attacks against Israel.

Rawley said the UN will monitor the goods from their point of purchase to the end user in Gaza, addressing Israeli security concerns that the materials could be used by Hamas militants.

He said that building in Gaza requires Israel to approve some 100 million dollars' worth of projects, something that the new deal does not address, although talks are taking place on the issue. Earlier Wednesday, the deputy Palestinian Prime Minister, Mohammed Mustafa, welcomed the deal, but said a greater easing on the movement of goods and people was also needed.