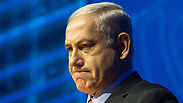 Prime Minister Benjamin Netanyahu promised on Thursday to provide aid to southern Israel's communities, the likes of which "have not been seen since the establishment of the state."

This aid plan will be put up to a vote in the cabinet on Sunday, Netanyahu said, and it is expected to pass without issue.

The government plan will see NIS 1.3 billion in funds transferred to the south. According to the prime minister, this the largest and most comprehensive economic development plan ever implemented in the region, and it joins, he claimed, a number of other government decisions taken during Operation Protective Edge, during which over NIS 417 million were benchmarked for the region for 2015-2016.

Speaking to mayors and regional council heads, the prime minister said that as Israel is continuing its massive investment in the Iron Dome missile-defense system, "at the same time we're building and investing in the country, primarily in the southern communities."

"We're committed to connecting the Negev and the Galilee to central Israel with public transport, we'll send IDF (bases) to the south," Netanyahu added.

To the mayors, the prime minister said "I believe in you, in giving the management of your communities to you. We need to reward your success," adding "keep building, and we'll worry about security and defense."

Netanyahu also addressed the results of Operation Protective Edge. "We've reached achievements, and Hamas was hit with a harsh blow. We destroyed the terror tunnel and Hamas knows we won't tolerate what it calls a 'drizzle.' The evidence to that is how fast it caught the perpetrators (who launched a rocket, breaking the ceasefire) yesterday."

The prime minister expressed confidence Israel could face the many challenges posed to it on its borders. "Al-Qaeda, ISIS in the east and Hezbollah on the Lebanese border. We'll defeat them all, God willing."

Meanwhile, Hamas spokesman Sami Abu Zuhri warned Israel of re-escalating the situation in the Gaza Strip. He asserted the reasons that led to the recent conflict still exist, and called on the international community to take responsibility and make real steps that would lead to the lifting of the blockade on the Gaza Strip and to its rehabilitation.

Elior Levy contributed to this report.