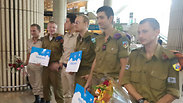 Waiting for the parents.
Photo: Itay Blumenthal
Lone soldiers, many of whom served in combat roles during Operation Protective Edge, left their homes and families behind to protect the State of Israel - a sacrifice many consider to be courageous, if not slightly insane.

For this Rosh HaShanah, El Al airlines, in cooperation with other key companies, found a way to honor their courage by providing a free flight and vacation for 125 parents of lone soldiers, the first group of which landed at Ben Gurion International Airport Thursday.

Seventy-seven lone soldiers who served during the Gaza op will have an emotional reunion with their families over the coming days, and the first flight arrived from through Moscow at 11:35am Thursday. Twenty-one El Al flights will take part in the project in total, bringing parents from New York, Los Angeles, Toronto, St. Petersburg, Kiev, Moscow, Paris, London, Brussels, and Amsterdam.

Related stories:

"I would like to thank everyone who took a part in this outstanding organization," said Dovrat Ifis, a mother to one of the soldiers. "The timing is just perfect and our soldiers truly deserve it. And on top of this, the best part is that we get to celebrate Rosh Hashanah together. I can't put into words how happy I am right now; my heart is pounding with excitement."

Organized transportation will take the lone soldiers and their families to hotels in central Israel where several facilities have offered rooms free of charge for the initiative including Africa-Israel Hotels, Dan Hotels, Prima Hotels, Fattal Hotels, and the Carlton.

The Association for the wellbeing of Israel's Soldiers (AWIS) and the IDF's Manpower Directorate also had an organizational role in bringing the parents to Israel, and they will be invited with their sons to a Rosh HaShanah toast at the Hilton hotel. The event sets a record for AWIS as the largest number of parents ever flown to Israel.

"We initiated this project in order to show our appreciation to the lone soldiers, who bravely decided to leave their home country and protect Israel," said David Maimon, El Al's CEO. "El Al airlines took part in this project by providing the parents of our lone soldiers with free flights, and is wishing them a peaceful and quiet year."

Eli Gonen, President of the Israel Hotel Association added that, "We are opening our hotels and our hearts to the lone soldiers and their families, providing them with a feeling of home and comfort during the holidays. It is during those times that we can see the beautiful side of the people of Israel: the sudden mobilization of its people in order to help the society."