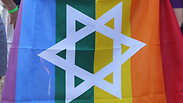 Gay pride in Jerusalem
Photo: Gil Yohanon
Over 500 people attended the gay pride parade in Jerusalem Thursday, and marched to Independence Park from Gan HaPa'amon (Bell Park). The adjacent streets have opened for traffic. Hundreds of police officers and Border Guard officers were securing the crowds.
Elinor Sidi, Executive Director of The Jerusalem Open House for Pride and Tolerance, said, "The parade was postponed because of the operation in Gaza, and now we're happy that there is calm and I'm here to march and to tell the rest of the cities to march as well."
"We are an integral part of the fabric of this city. The police cooperated and they are more attentive to our needs. I want to convey a message that the Gay Pride Parade has become routine in the city and that's what we're aiming for," said Sidi.
Khaled Alcamo (31) from East Jerusalem also came to the march and said, "I came to take a small part in the Gay Pride Parade in Jerusalem this year. I'm 90% not in the closet and 10% in the closet, but the Arab gay community has a lot of people in the closet because they're afraid to say anything."

"Their families will throw them out and threaten them with murder. They don't accept them to work and school and they laugh at them. But I came to say that we're proud that we're a part of this community as Israeli Arabs and we're fighting for our rights," said Alcamo.
Related stories: