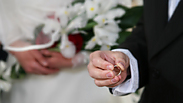 Two different versions of wedding video, one for groom and one for bride
Photo: Shutterstock
May men and women exist in same universe?
Last Saturday night a "tshuvah," a ruling of Jewish law from Rabbi Zalman Melamed landed on my computer screen. The rabbi was asked, "Is it permitted for a husband to view the video of his own filmed wedding, including the sections when his wife the bride dances with her female friends. If not, does one have to request that the photographer who edits the film delete those sections and make two different versions of the wedding video?"

What do you think was Rabbi Melamed's halachic ruling? At this point, you are all invited, while sitting around the Shabbat table, to propose your own answer and then compare it to Rabbi Melamed's response. Interesting responses will be welcomed at the "beit midrash of talkbacks."

Recklessness vs. Conservatism

Women are educated to be terrified of the word 'reckless' and restrain themselves in order to allow their men to flourish. The more a person is preoccupied with matters of modesty, he ultimately arouses himself more.

This is Rabbi Melamed's tshuvah: "If viewing his wedding movie created thoughts in him causing improper sexual excitement, of course it is forbidden for him to watch his wedding video.

"Watching his wedding movie also entails an element of 'bitul Torah' (wasting time that could be spent studying Torah), unless he is in need of respite and viewing it strengthens him. Indeed, it is preferable for there to be two different versions of the wedding video, one without video footage of the women and the women's dancing."
Modesty rabbis' picture of reality
I imagine the newlywed couple that wants to fondly recall its wedding memories. She, let's say, wants to watch their wedding video and he, let's say, tells her: "Good, but not because I really want to, rather because I need to rest before studying Torah."

They sit down on the living room sofa, turn on the computer (as there is no television in the house), and then she asks him: "Mine or yours?" Meaning, of course, which wedding video they should watch.

He needs to introspectively clarify if pictures of his wife's friends dancing will create in him "thoughts causing improper sexual excitement" tonight. If he suspects they will, they will see his version, after which he will be reinvigorated and go study Torah, and she will turn down the volume on the computer and watch the deleted footage –of her dancing with her friends.

A gender-separated wedding is not enough. Gender-separated wedding videos are also required. And if we will further inquire and consider, we will understand that gender-separated filming crews are necessary as a man could not have filmed the women dancing (as no one can guarantee that in real time he won't think "thoughts causing improper sexual excitement" and be forced to cease filming).

And of course the editor of the bride's wedding video must be a woman, as a male video editor could be visited by "thoughts causing improper sexual excitement" while working. And what will we do with the bus driver, doctor, mechanic, car salesmen, retail salesman, University professor or, dare we mention, rabbi?

The good news is that the worldview, according to which any woman can cause any man to have "thoughts causing improper sexual excitement" in any situation, opens up many professional options for women. The bad news is that this is bad. This worldview turns every woman into a sexually predacious Lilith and makes every man spineless.
Two premises of modesty rabbis
The choice made by Rabbi Melamed and his friends to become so extreme in matters of modesty could easily paralyze communal life, and even family life. Indeed, if modesty really is one of the most important religious topics, and if the human sexual desire really is so evil, properly addressing this issue requires people not to speak with one another.

A movement of self-isolating monks is of course the ideal solution, however there are those who are still convinced that Jewish culture and law oppose monasticism, and unfortunately it is specifically the rabbis who most bow down to the ideal of "modesty" that demand an excessive observance of the mitzvah "be fruitful and multiply." How can these two conflicting ideals be compatible?

In order to successfully maintain communal life, modesty rabbis are required to maintain two interesting and problematic presuppositions. The first is that women's threshold for sexual stimulation is lower than men's and that they do not suffer from "thoughts causing improper sexual excitement" when they are exposed to men. The second presupposition is that men are not sexually attracted to men.

The more you try and think about it, the more you see that undermining even just one of these presuppositions collapses the modesty rabbis' worldview, and without them they would be obligated to begin believing in their community members or choose monasticism.
Are male Jews not suspected of homosexual sex?
What does the Talmud say in regards to the modesty rabbis' gender presuppositions? The famous Talmudic rule (Babylonian Talmud, Kiddushin 82A), "Male Jews are not suspected of homosexual sex nor of bestiality," supports the position of the modesty rabbis and attempts to undermine any discussion whose subject is homosexuality between Jews.

Note that this brief but interesting text does not claim that there are no Jewish men who have homosexual sex with other men, but rather that the rabbinic sages have decided not to investigate this issue and not to raise suspicions on this topic.

On one hand, I praise the courage to decide that there are issues we don't need to let bother us, and am saddened that this principle is not applied in many other subjects. On the other hand, I do not like solutions based on turning a blind eye.

Revelation of the sexual abuse and sexual assault committed by Rabbi Ze'ev Kopolovich, head of the Netiv Meir Yeshiva, and Rabbi Mordechai (Moti) Elon, head of the Kotel Yeshiva, who (among other rabbis) criminally wronged their male students and male members of their community, should be eye opening to the modesty rabbis.

Until now, however, it seems that many of them have succeeded in maintaining their blind eye towards Jewish homosexuality by means of blaming the victim.
'She will demand sex even from a donkey'
As opposed to the Talmudic position on homosexuality, its position on women's sexuality is the opposite of the position of the modesty rabbis.

Many halachic and aggadic sources describe women as having a strong and wild sexual appetite, controllable only through uncompromising male social oppression (Babylonian Talmud, Ketuvot 65A): "One cup (of wine) is good for a woman. Two is disgracing. If she has three, she will verbally demand sex. If she has four, she will demand sex even with a donkey in the market (in public), without shame."

The Talmud quotes the Bray'tah in its entirety in order to explain why women should be prevented from drinking wine. Take from a woman the sense of shame, claims the Bray'tah, and see how her sexual desire knows no boundary nor limit.

I am begging of the weekly Torah portion to save me as I read the halachic ruling of Rabbi Melamed. I throw down my supplication before the weekly Torah portion, "Nitzavim," to come to my aid.

My prayers are answered. Already in the first few verses, the Torah portion smiled at me while it told of the festive religious gathering the night before entering the land of Israel (Deuteronomy 29:9-11): "You are standing this day all of you before the Lord, your God: Your heads, your tribes, your elders, and your officers, even all the men of Israel; Your little ones, your wives, and the stranger that is in the midst of your camp, from the wood cutter unto the water drawer; that thou should enter into the covenant of the Lord your God--and into His oath--which the Lord your God makes with you this day."

Everyone is standing before God: The men, the women, the children, the strangers and the simple workers. And no, no one built a screen in the middle of the desert. Everyone stood together before God. And what was good enough for Moses and God is good enough for me (not always, but this time it definitely is).

And besides this, the gamble on finding a supporting text from this week's Torah portion is a safe one, as the Torah, from its beginning to its end, does not deal with the subject of modesty. The truth needs to be said that even the Talmud does not excessively address modesty issues, nor does it have a single tractate dedicated to this negligible topic.

Issues of modesty penetrated into Jewish culture at later stages and from foreign influences. In general, I am not opposed to intercultural exchange, but why should we take just anything that those around us offer? How about a little screening and critical thinking?
Equality for women and for minorities
An additional and important lesson from the opening verses of this week's portion is that whomever made the effort to include the women made the effort to include other weak groups and minorities (children, strangers, and generally deferred workers).

Exclusion is exclusion, and whomever chooses to exclude women will not stop there. It is important to remember: Today it is us, tomorrow it will be you. No one escapes unscathed from leadership whose banner is exclusion.
A tall and murky wave in front of us
There is no doubt that the partial, yet impressive success of the feminist movement and the LGBT movement for freedom and equal rights has stirred up the latest and enormous wave of modesty proponents. Women join with men and even go further in taking on themselves various modesty laws that are unprecedented in Jewish culture.

An important example of this is the women of the haredi burqa sect that is no longer a peripheral phenomenon. In Jerusalem I already see many women who believe it is forbidden for them to show the outline of the figure of their body and cover themselves in burqas.

The women of the haredi burqa sect are moving from the periphery to the center of haredi society, and it seems to me that the price for that will not be paid by them alone.

Shabbat Shalom!

Translated by Uzi Bar-Pinchas.

Click here to read this article in Hebrew.