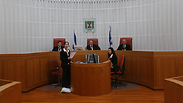 'Decision reveals Supreme Court's importance in our lives'
Photo: Gil Yohanan
The drama that took place Monday evening, when an extended High Court panel struck down a Knesset law on the detention of infiltrators, for the second time, reveals the Supreme Court's importance in our lives.

Despite the state's sensitive situation, the court is insisting on leading it in a liberal and humane way. The ruling, which is already evoking automatic reactions calling to limit the Supreme Court's power, serves as decisive proof of democracy's strength. From now on, the government will simply have to work harder to find ways to solve the problem of the infiltrators.

Different View

Op-ed: High Court's decision to close detention facility for African infiltrators was determined by composition of panel of judges.

It's reasonable to assume that if the two judges appointed to the High Court on Sunday, Menachem Mazuz and Anat Baron, would have been included in the panel, they would have joined the majority opinion. It's also likely that in his previous position as attorney general, Mazuz would have worked against this law to begin with. But as the saying goes, what you see from here you don't see from there, and the Supreme Court judge can afford a panoramic visual range.

In Monday's decision, Supreme Court President Asher Grunis, who is considered conservative when it comes to annulling laws, found himself in a minority. As opposed to what many people say, the Supreme Court president has a limited impact on the rulings. Even in the courts dominated by former presidents Meir Shamgar and Aharon Barak, rulings on sensitive issues were not unanimous despite the desire to reach a consensus.

Mazuz's great contribution in the Supreme Court is expected to mature towards the middle of the terms of the next president, Justice Miriam Naor, and especially during the term of her successor, Esther Hayut. Hayut and Justice Minister Tzipi Livni – who worked with Mazuz during her first term as justice minister – were the ones who pushed for his appointment.

There are not many legal experts today who are as familiar with Israel's political, security, social and economic system as Mazuz is. Under his clear judicial demeanor hides a realistic, open and pragmatic person, who understands very well where the Supreme Court's authority ends, and mainly its limitations in a split society, whose liberal values are being threatened by the nationalistic radicalization taking place within it.

When Mazuz discusses a request to undo a law, to reveal documents, when he reviews a petition to reject an appointment or a security petition, he will know where the legal problem starts and where it ends and moves on to political, diplomatic or security-related lines, and that's where he'll stop.

Mazuz, like Judges Naor and Hayut, is not an activist from Aharon Barak's school. He understands that the Israeli society, and its political echelon, will not allow the Supreme Court to run the state and question its discretion on every issue. On the other hand, Mazuz will be an activist on human rights issues, social issues and, as much as he can, on issues of minorities and migrants.

And I can't avoid addressing the "Mizrahi" issue. Mazuz hates it when people mention his Tunisian descent in regards to his impressive climb up the ladder. As far as he is concerned, his career developed thanks to talent and diligence. But for a person who grew up in the southern town of Netivot in the 1950s and 1960s, in a poor traditional family which did everything to offer its children a good education, and managed to flourish within an elitist Ashkenazi system, it's definitely a remarkable achievement.