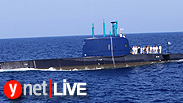 INS Tanin
Photo: Roee Idan
The navy's latest addition, the INS Tanin, docked in Haifa Tuesday after it traveled 8,000 kilometers on its journey to its new home port. The ceremony welcoming the new submarine was attended by Prime Minister Benjamin Netanyahu, President Reuven Rivlin, Defense Minister Moshe Ya'alon and IDF Cheif of Staff Lt.-Gen. Benny Gantz.
For the first few days of the inaugural voyage, the submarine hosted Navy chief Maj. Gen. Ram Rothberg, who later returned to Israel. The INS Tanin then made the rest of the journey with its 50 crew members, who have already replaced the German flag with Israel's Star of David.


The submarine plotted a direct course from the North Sea to the Atlantic Ocean, and it will pass through the Straits of Gibraltar during its 20-day voyage which will end in Haifa on the 23rd of September.
Before its arrival in Israel, the INS Tanin will stop 270 miles from the shore, where the INS Dakar sank, to hold an open-sea memorial service for its fallen sailors.
The INS Tanin will be the navy's first submarine of the AIP (air-independent propulsion) variety, which extends the vessel's endurance underwater.
The fifth Dolphin-class submersible will arrive in six months, while the sixth German-made purchase is expected to be delivered in 2019.
The Dolphin-class submarine is a versatile vehicle capable of adapting for a wide-range of deployments. The 7th Flotilla, Israel's submarine unit, represents the most far-reaching tool in the arsenal of the Navy, the IDF, and the State of Israel.