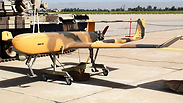 Iran's 'anti-aircraft' UAV
On the second day of Iran's Sacred Defense Week, to mark its war against Iraq in the 1980s, Tehran unveiled its first domestically-manufactured UAV – which it claimed was armed with air-to-air missiles.

Deputy defense minister, Brigadier General Amir Hatami, attended the launch of the unmanned aerial vehicle, telling journalists: "The production of UAVs equipped with anti-aircraft missiles was undertaken to fulfill the needs of our armed forces."

He claimed the UAVs were ready to join the Iranian military, as they were successfully tested – in the lad and in the field.

Hatami added: "This aerial vehicle can destroy all types of aircraft – warplanes, UAVs, and helicopters."

Arabic-language Iranian network Alalam claimed the UAVs would be deployed for intelligence missions, aerial surveillance, target identification, and anti-helicopter operations.

In August, Iran said it had shot down an Israeli spy drone that was heading for its Natanz nuclear enrichment site, Iranian media reported.

"The downed aircraft was of the stealth, radar-evasive type and it intended to penetrate the off-limits nuclear area in Natanz ... but was targeted by a ground-to-air missile before it managed to enter the area," state news agency ISNA said, citing a statement by Iran's Revolutionary Guards.

A senior officer in the Iranian corps, Brig. Gen. Amir Ali Haji Zada, claimed the unmanned plane was a Hermes-model made in Israel. Israeli experts said that the photos did not show parts from any Elbit-made UAV.