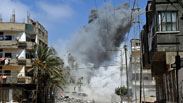 Destruction in Strip. 'Gaza does have economic options'
Photo: EPA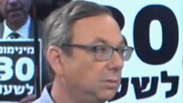 Prof. Eran Yashiv
Photo: Avi Chai, Assi Cohen
The destruction of luxury towers in Gaza – the local "Akirov Towers" – by the Israel Air Forces towards the end of Operation Protective Edge shocked Gaza's residents, perhaps even more than the destruction of poor neighborhood.

In Gaza, like in any other place, economy plays an important role – and when economic interests are impaired, it has an impact. The opposite is also true: If the Gaza economy will be upgraded considerably, the Gazans' desire to fight Israel will decrease significantly, because when people has something to lose they don't tend to fight.

Palestinian Economy

Financial, social restrictions, drop in foreign aid to result in 15% drop in Gaza economy, 0.5% growth in West Bank.

Even before Operation Protective Edge, Gaza was at the bottom of the barrel: 1.766 million residents living in the third highest population density in the world, about 4,800 people per square kilometer.

The infrastructures are in a shaky condition, so that even in routine times there are many disruptions in the electricity, water and sewage systems. In addition, there is a 45% unemployment rate and a GDP per capita of some $1,500 a year – less than half the GDP per capita in the West Bank and less than 5% of Israel's GDP per capita.

Now the Gazans haven't got much to lose, given their poverty and lack of hope. But if there would be more "Akirov Towers" in different areas of life, they would have something to lose.

It may be surprising, but Gaza has economic options: Developing tourism along the seashore, developing the services area (including, for example, entering the fields of high-tech) and producing gas (following the discovery of a significant offshore gas field in 1999). In the short run, it would also be possible to direct many investments and employment to the field of developing physical infrastructures and public services.

How can Gaza be upgraded, and who will do it? The only point in doing so is if a fundamental change takes place. I'm not talking about easing the siege or opening crossings to a certain extent, as small steps will not reach the real goal and will even aggravate the situation in the long run.

What needs to be done is the creation of new international mechanisms in order to implement massive change, as Hamas has not shown any desire or ability to go in such a direction, and Israel is not the right country to deal with it. Such mechanisms require an agreement by several states and international bodies to seriously take the task upon themselves.

The incentive to countries joining such an effort would be that with a relatively small investment, they would be able to create an unprecedented change in a region filled with conflicts and extremism threatening the entire world. The entire world is now preoccupied with the question of how it should deal with radical Islam, and it has an interest to keep ISIS and al-Qaeda away from the region.

The focus should likely be on trying to advance the issue on two levels at the same time. On the first, political level, an international force will be deployed in Gaza, like the one stationed in the former Yugoslavia states from 1992 to 1995, in order to create an international presence and enable economic activity.

On the second, economic level, is that an international body, like the World Bank, will appoint a taskforce which will implement plans for massive investment of $1 billion a year, for several years. A designated development bank will take care of the funding, which will arrive from a variety of rich Arab and Western countries.

Such a type of international involvement will lead to a change compared to the usual pattern of Western military involvement in Muslim countries. This will create a positive precedent for additional, positive Western involvement, and a counterbalance against the growing activity of radical Islamic organizations.

This international involvement will end once progress is made for a peace agreement between Israel and the Palestinians, and Gaza is integrated with the West Bank. The Gazan experiment, therefore, may advance an agreement and serve as a positive example in the Middle Eastern context.

Prof. Eran Yashiv is a faculty member of the Eitan Berglas School of Economics at Tel Aviv University and head of the Neubauer Program on Economics and National Security at the Institute for National Security Studies.