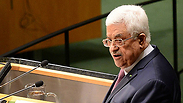 Abbas at UN. 'Are Mashal or Haniyeh more suitable to hold negotiations with Israel?'
Photo: AFP
Assuming that Mahmoud Abbas is not a partner for peace who may lead to a diplomatic agreement between Israel and the Palestinians, there is a simple question we must ask ourselves: Who is? Are Khaled Mashal or Ismail Haniyeh, or anyone else Israel may try to crown, more suitable to hold negotiations with us? Probably not.

Even if some of the comments made Friday by the Palestinian Authority chairman at the United Nations General Assembly do distort history and are definitely outrageous, we are still left with the painful reality in which both nations are seeking high and low for a formula which will guarantee security for the Israelis and self-determination for the Palestinians.

Abbas' UN Speech

Analysis: Israelis and Palestinians are left with a battlefield between a government which will forever stick to status quo and a desperate PA which is fighting it, with world's growing support. This is a recipe for an explosion.

The addresses delivered every year on the UN podium are mainly symbolic and in most cases lack any political significance. They are filled with clichés which are mostly aimed at captivating the speakers' audience at home.

The same is true for us: Can anyone remember a significant and groundbreaking statement made by Benjamin Netanyahu at the UN? The prime minister's speeches always come in the same package: They include reminders of the Holocaust and a review of the existential threats hovering over Israel.

This year it was actually Abbas who appears to have provided a groundbreaking speech: In his aggressive address, he may have tried to prove to his Palestinian senders that there is a possibility they would make progress towards some kind of independence by appealing to the international community.

Abbas' announcement that he is turning to the Security Council to advance a decision to establish a Palestinian state in the 1967 borders with East Jerusalem as its capital, within a limited period of time, may receive the world powers' support at the Security Council.

If that were not enough, we must not rule out the possibility that the United States will support such a declaration one day. We must remember that Barack Obama was the first American president who, in a historic public speech which he delivered at the beginning of his presidency, addressed the '67 borders and a land swap as a possible formula for solving the Israeli-Palestinian conflict.

There are at least two ways to deal with the issues raised by Abbas in his address. The first way, which will likely be reflected in Netanyahu's UN speech on Monday is: "I told you so. Abbas is not a partner for peace and is dangerously distorting history."

There is quite a lot of truth in that: Several years ago, when I listened to Abbas addressing UN General Assembly, I was amazed by the historic distortions about the history of Jerusalem that came out of his mouth. According to him, Judaism never even existed in the Old City where the Jewish Temple was located, and only Christianity and Islam have a place there.

The second response to Abbas' comments forces us to seriously consider the options and advance our own solution which will be based on one of the two following options: Two states for two people or one bi-national state which will guarantee full rights for all the residents of the Land of Israel, both Jews and Arabs.

Despite the harsh statements voiced by Abbas on Friday, we must not forget that he and the leaders of the Palestinian security organizations are fully cooperating with the Israeli security services with a shared goal in mind: Preventing terror attacks.

Some will say that whoever cooperates with us at night is allowed to make speeches which include defamatory words against us during the day. But the decision about our future is not only in Abbas' hands. It is also in the hands of the Israeli government. It's just a shame that Netanyahu has yet to realize that and do something about it.