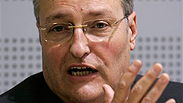 Wiesenthal Center's top Nazi hunter - Efraim Zuroff
Photo: AP
The Simon Wiesenthal Center has identified dozens of former members of Nazi mobile death squads who might still be alive, and is pushing the German government for an investigation.

The Associated Press has learned the Wiesenthal Center's top Nazi hunter, Efraim Zuroff, last month sent the German justice and interior ministries a list of 80 men, and a handful of women, who had served in the so-called Einsatzgruppen.

Zuroff said Wednesday "time is running out" to determine whether the elderly suspects remain alive and can be prosecuted.

Nazi Hunter

Following strong response to initial launch, Simon Wiesenthal Center is extending its poster and reward campaign in Germany in its push to track down Nazi war criminals before it is too late.

Germany's Interior Ministry had no immediate comment but the Justice Ministry said it had passed the details of the letter to the special federal prosecutors' office that investigates Nazi-era crimes.

The head of that office, Kurt Schrimm, told the AP he hasn't yet received the new information.

The Einsatzgruppen followed Nazi troops as they battled their way eastward in the early years of the war, rounding up and shooting Jews in the opening salvo of the Holocaust before the death camp system was up and running.

According to the US Holocaust Memorial Museum, they had killed more than a million Soviet Jews and tens of thousands of others by spring 1943.

A handful of Einsatzgruppen members were tried and convicted after the war but most have gone unpunished.

Schrimm has said, however, they could now be prosecuted under new German legal theory that service in a Nazi unit whose sole purpose was murder is enough to convict someone of accessory to murder -- even without evidence of participation in a specific crime.

Last year, the center expanded its poster and reward campaign in Germany in a push to track down Nazi war criminals before it is too late, following a strong response to its initial launch.

Zuroff dubbed it Operation Last Chance II, and it was launched in July 2013, resulting in tips on 111 possible suspects from 19 countries.

"The response was way beyond anything we expected," he said in a telephone interview.

Germany had the largest number of potential suspects with 81, followed by the United States with eight and Canada with three, he said.

The center offered up to €25,000 ($34,000) for tips that lead to the arrest and conviction of war crimes suspects.

The campaign started with posters reading "late, but not too late" in Berlin, Hamburg and Cologne. Now a further 2,500 posters are being displayed in Leipzig, Munich, Magdeburg, Rostock, Stuttgart, Dresden, Nuremberg and Frankfurt.