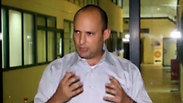 Bayit Yehudi Chairman Naftali Bennett
Photo: Ido Erez
Economy Minister Naftali Bennett harshly criticized Prime Minister Benjamin Netanyahu on Wednesday night, after the latter held talks with US President Barack Obama at the White House.

Speaking at a Bayit Yehudi event to honor party members who fought in Operation Protective Edge, the faction's chairman slammed Netanyahu's position on a diplomatic resolution with the Palestinians. "I heard the prime minister told President Obama that he renewed his commitment to a Palestinian state. Enough! It's over!"

The Bayit Yehudi chairman added: "If, after Operation Protective Edge, you have yet to understand that we must never-ever give one more inch of land to the Arabs and pray for the best – it is time to wake up."

The economy minister also criticized Netanyahu's speech to the United Nations. "The prime minister gave a great speech at the UN, but it is like he built up all the arguments but missed the glaring conclusion – the glaring conclusion that there will not be a Palestinian state west of Jordan."

Bennett, however, did not completely rule out a future Palestinian country. "Maybe in Sinai – fine. In other places – fine. West of Jordan, in Israel, there will not be a Palestinian state. I am simply amazed that after all these understandings and the insight we continue down this road."