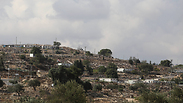 Givat Hamatos neighborhood
Photo: Gil Yohanan
The US hit back Thursday to Benjamin Netanyahu's remarks that the Obama administration should learn the facts on the ground before condemning the housing units in southern Jerusalem beyond the Green Line.
State Department spokeswoman Jen Psaki said the criticism from the Obama administration "was responsive to actions that were happening on the ground that we were asked about."
In a striking public rebuke, the Obama administration warned Israel on Wednesday that plans for a controversial new housing project in southern Jerusalem (near the Palestinian village of Beit Safafa) would distance Israel from "even its closest allies" and raise questions about its commitment to seeking peace with Palestinians.
Speaking to NBC news, Prime Minister Benjamin Netanyahu stated in response that "I think they (the Obama administration) should be acquainted with the facts first. You know? First of all, these are not settlements.
"These are neighborhoods of Jerusalem. We have Arab neighborhoods and we have Jewish neighborhoods," he added, referencing the fact the though the construction was beyond the Green Line it was not in East Jerusalem.
On Thursday, Psaki clarified that the US has its "information clear" and added that it had "responded to facts on the ground."
Stressing that the country's position had not changed regarding its critique over the housing units, Psaki stated "provocative actions that can make it more difficult to move forward in a peaceful manner in the region."
However, Psaki also emphasized that the United States' ties with Israel are still strong: "Israel remains an important partner, a security partner, a friend and ally. That has not changed."
Earlier Thursday, France called on Israel on Thursday to drop plans for new homes over the Green Line in Jerusalem, joining the United States and Germany in criticism of the move.
"We condemn the Israeli authorities decision to build 2,610 homes in Givat Hamatos," French Foreign Minister Laurent Fabius said in a statement. According to Reuters, Frabius pointed out that it would be the first new neighborhood over the Green Line in 15 years.
"We urgently call on the Israeli authorities to reverse this decision," he said.
Fabius said the settlements threatened a "two-state solution" - meaning an independent and democratic Palestinian state living alongside Israel.
"One cannot claim to support a solution and at the same time do things against without consequences being drawn, including at the European Union level," Fabius said without elaborating.
The US State Department said on Wednesday that reports that Israel had moved forward with settlement plans would call into question Israel's commitment to peace.