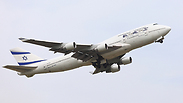 El Al plane
Photo: Shutterstock
El Al Israel Airlines and JetBlue plan to expand their partnership, allowing El Al to sell seats on some JetBlue flights to and from the New York area.

The companies have filed a request with the US Department of Transportation for so-called code-sharing and are awaiting government approval.

Flight Ban

El Al passengers on New York-Israel flight claim Haredi men refused to sit next to women, even offering secular passengers money to switch seats, delaying flight's departure.

If approved, El Al plans to put its "LY" code on certain JetBlue-operated flights to and from John F. Kennedy International Airport in New York and Liberty airport in Newark, New Jersey. El Al flies to JFK from Tel Aviv, but foreign airlines are not allowed to operate flights entirely within the United States.

The airlines have maintained such interline agreements since 2010, which allow passengers to buy a single ticket for itineraries that include flights on both carriers.

El Al currently has up to 22 weekly nonstop flights from Tel Aviv to the New York area. JetBlue Airways Corp. serves 86 cities across the US, the Caribbean and Latin America.