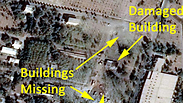 Possible damage caused to Parchin
Photo: Digital Globe/Airbus via ISIS
Satellite images released by a US security institute and website Israel Defense on Wednesday show a section of the Iranian military complex in Parchin where both have independently said an explosion or fire might have taken place earlier this week.

Iran's official IRNA news agency on Monday cited an Iranian defense industry body as saying that two workers were killed in a fire at an explosives factory in an eastern district of Tehran.

An Iranian opposition website, Saham, described the incident as a strong explosion that took place near the Parchin military complex around 30 km southeast of the capital. It did not give a source and the report could not be independently verified.

Related stories:

The Washington-based Institute for Science and International Security (ISIS) said it had obtained commercially available satellite imagery on which six buildings at Parchin appeared damaged or destroyed.

However, the images ISIS issued indicated the site of the possible blast was not the same Parchin location where the UN nuclear agency suspects that Iran, possibly a decade ago, carried out explosives tests that could be relevant for developing a nuclear arms capability. Iran denies any such aim.

"It is important to note that there is no evidence of either an attack or nuclear weapon-related activities at this specific site," the think-tank said on its website, noting "there may be confusion over alleged high explosive nuclear weapon-related activities at another site at Parchin that occurred prior to 2004."

However, ISIS noted, a section of the military complex, which is believed to house many buildings possibly dedicated to munitions manufacturing, was missing from the satellite images purchased by the institute. This site is where an explosion could potentially take place.

The UN International Atomic Energy Agency wants to visit this area of Parchin, but Iran has so far not granted access. Iran says Parchin is a conventional military facility and that its nuclear program is entirely peaceful. It has often accused its enemies of seeking to sabotage its atomic activities.

Iran's Defense Industries Organization said the fire broke out on Sunday evening, IRNA said, giving no further detail.

ISIS, which closely tracks Iran's nuclear program, said its analysis of the satellite imagery from October 7 and 8 indicated an explosion could have taken place at a southern section of Parchin.

"Several signatures that coincide with those expected from an explosion site are visible here," it said on its website.

"Two buildings that were present in August 2014 are no longer there, while a third building appears to be severely damaged. In total at least six buildings appear damaged or destroyed," ISIS added.

Analysis of similar satellite images done by Ronen Solomon for Israel Defense found that "damage consistent with an attack against bunkers in a central locality within the military research complex" is can be clearly seen.

"The locality in question is situated at the center of the compound, adjacent to another installation where, according to intelligence sources, the trials being conducted involve controlled detonation of fuses intended to serve as triggers for nuclear devices," Solomon wrote, adding that "The locality consists of a sizable testing center and what appears to be an area with bunker-shaped structures."

Israel and the United States have not ruled out military action against Iran if diplomacy fails to resolve a decade-old dispute over Tehran's nuclear program.

Three years ago, Iran said a massive explosion at a military base 45 km (28 miles) west of Tehran killed 17 Revolutionary Guards, including the head of the elite force's missile program. It said the blast was caused by an accident while weapons were being moved.