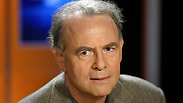 Patrick Modiano
Photo: AFP
French author Patrick Modiano won the 2014 Nobel Prize in literature Thursday, as "a Marcel Proust of our time" whose work is strongly influenced by his Jewish roots.

The Swedish Academy gave the 8 million kronor ($1.1 million) prize to Modiano "for the art of memory with which he has evoked the most ungraspable human destinies and uncovered the life-world of the occupation."

Modiano, 69, whose novel "Missing Person" won the prestigious Prix Goncourt in 1978 - was born in a west Paris suburb two months after World War II ended in Europe in July 1945.

His father was of Jewish Italian origins and met his Belgian actress mother during the occupation of Paris - and his beginnings have strongly influenced his writing.

Jewishness, the Nazi occupation and loss of identity are recurrent themes in his novels, which include 1968's "La Place de l'Etoile" - later hailed in Germany as a key Post-Holocaust work.

Modiano owes his first big break to a friendship with a friend of his mother, French writer Raymond Queneau, who was first introduced him to the Gallimard publishing house when he was in his early twenties.

Modiano, who lives in Paris, is known to shun media, and rarely accords interviews. In 2012, he won the Austrian State Prize for European Literature.

He has published more than 40 works in French, some of which have been translated into English, including "Ring of Roads: A Novel," ''Villa Triste," ''A Trace of Malice," and "Honeymoon."

He has also written children's books and film scripts and made the 1974 feature movie "Lacombe, Lucien" with director Louis Malle. He was a member of the jury at the Cannes Film Festival in 2000.

Peter Englund, the permanent secretary of the Swedish Academy said time, memory and identity are recurring themes in Modiano's works.

"His books speak to each other; they are echoes of each other," Englund told Swedish broadcaster SVT. "That makes his work in a way unique. You could say that he is sort of a Marcel Proust of our time."

Literature was the fourth of this year's Nobel prizes. The prize is named after dynamite inventor Alfred Nobel and has been awarded since 1901 for achievements in science, literature and peace in accordance with his will.

Last year's prize went to Canadian writer Alice Munro for her mastery of the short story.

The Associated Press and Reuters contributed to this report.