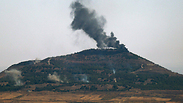 Battles between Syrian rebels and regime forces
Photo: EPA
Two rockets hit Lebanon on Thursday in a border region where Hezbollah clashed with Syrian jihadists last week, the army said in a statement.

The rocket fire caused no damage or injuries, but comes after clashes in the region on Sunday that left at least eight Hezbollah fighters dead, along with "dozens" of jihadists and Syrian rebels.

The missiles landed near the eastern Lebanese town of Brital, not far from the mountainous border area.

On Sunday, Hezbollah forces battled Syria opposition fighters in the border region, raising new tensions along the line between the two countries.

Lebanon's border with Syria is not officially defined and much of it is porous and unpatrolled, with local residents, smugglers and others moving freely across it.

Hezbollah maintains several military posts along the border and its fighters are also battling jihadists and other Syrian opposition fighters in Syria in a bid to bolster President Bashar al-Assad.

The conflict in Syria has regularly spilled into Lebanon, and raised tensions between Lebanese Sunnis who largely back the uprising and Shiites who tend to support Assad's regime.

Hezbollah's role in the conflict has further stoked tensions, and the group and its strongholds in Lebanon have been targeted in attacks by jihadists on several occasions.

The attack against Hezbollah on Sunday was reportedly launched from around the Assal al-Ward region of Syria's Qalamun region.

Hezbollah sources and the Syrian Observatory for Human Rights monitor reported Thursday that jihadists and rebels had launched several attacks against regime forces in Assal al-Ward in the last two days.

"The situation in the Qalamun mountains is calm now after the failure of all attempts by armed groups," a Hezbollah source on the group told AFP.

The source said a series of attacks against Assal al-Ward and surrounding areas by rebel groups had been repelled by and "at least 15 (rebel) gunmen killed."