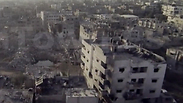 Destruction to Shuja'iyya neighborhood following Gaza op
A senior Palestinian official said Friday that Israel will allow more building materials into Gaza from next week, as part of a UN-brokered deal for rebuilding the war-battered territory.

The shipments will start Sunday, said Mohammed Mustafa, deputy prime minister in the Palestinian unity government that is to oversee the Gaza reconstruction efforts. Palestinian inspectors will be deployed on the Gaza side of the border next week – as early as Sunday – to oversee the imports, Mustafa said in a phone interview.

Israeli defense official Hadar Horen said she did not know when such shipments would begin.

The start of the imports would coincide with an international pledging conference in Cairo where the Palestinians will seek $4 billion for Gaza reconstruction.

Until now, Israel only permitted shipments of building materials for projects supervised by international agencies, but not for Gaza's private sector. Israel fears the Islamic militant group Hamas will divert shipments for military use, including bunkers and tunnels.

Israel and Hamas fought a 50-day war this summer.

During the fighting, Israel launched thousands of airstrikes against what it described as Hamas-linked targets and also destroyed more than 30 Hamas attack tunnels under the Gaza-Israel border. Gaza militants fired thousands of rockets and mortars at Israel. More than 2,100 Palestinians were killed, along with 71 Israelis and a Thai worker.

The fighting devastated large areas of Gaza, destroying or damaging more than 60,000 homes and more than 5,000 businesses, according to the Palestinian government and the United Nations.

After the war, the UN brokered a deal with Israel and the Palestinian government under which Israel is to allow imports of construction materials for the private sector. On the Gaza side, the shipments are to be tracked by U.N. and Palestinian officials.

"We have an agreement with the Israeli side that the Palestinian Authority will deploy its officials on the crossings next week," Mustafa said. "Starting Sunday, construction material will start to enter Gaza."

He said quantities to be imported in the initial test phase would be three times what had been brought into Gaza for UN projects in the past. "The private sector will bring these materials in under the supervision of the Palestinian Authority," he said.

UN officials have said the Israeli import procedures in place before the Gaza war were cumbersome and that a more efficient system was needed to bring in large quantities of steel and cement, both for international projects and Gaza's private contractors.

Israel and Egypt have severely restricted access to Gaza since Hamas seized the territory from Western-backed Palestinian President Mahmoud Abbas in 2007. Earlier this year, Hamas ran into severe financial difficulties and agreed to hand over some powers in Gaza to Abbas, whose Palestinian Authority is based in the West Bank.

In June, Abbas formed a unity government to run both the West Bank and Gaza. On Thursday, the ministers held a Cabinet meeting in Gaza for the first time, marking the end of absolute Hamas control there. Hamas says it will support the new government but has not disbanded its security forces, creating a potentially volatile situation.