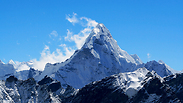 Illustration
Photo: Shutterstock
At least one Israeli hiker was killed in Nepal after snowstorm and avalanche in the Himalayas killed 17 trekkers and guides - nine foreigners and eight Nepalis - on a popular hiking route, while more than 100 others remain out of contact, officials said Wednesday.

The Foreign Ministry was still looking into conflicting reports regarding the number of Israelis killed in the incident, which ranged from one to three. Separately, four Israeli trekkers trapped in snowfall were rescued.

According to the governor of Mustang district, Baburam Bhandari, bodies were found along a popular trekking route in the Thorang-La area near Annapurna, the world's 10th highest mountain. Bhandari said they perished in a blizzard.

Mustang, about 150 km (93 miles) northwest of Kathmandu, borders Tibet and is popular among foreign hikers.

According to AFP, twelve bodies, those of two Israelis, a Pole, a Vietnamese and eight Nepalese trekkers and guides, were discovered buried in the snow in Mustang, said police official Ganesh Rai who is heading the rescue effort.

"There has been heavy snowfall in the area, up to three feet (91 centimetres)," Rai said.

"We have found twelve bodies in Mustang, including four foreigners, two from Israel, one from Poland and one from Vietnam," Rai told AFP, correcting his earlier information that two of those killed were Polish.

Separately, in neighbouring Manang district three yak herders were killed after being swept away by an avalanche.

"We have rescued five German, five Polish and four Israeli trekkers who were trapped in the snowfall early on Wednesday," Bhandari told Reuters by phone without giving details. One German tourist fractured his leg, he said.

"There has been heavy snowfall in the area, up to three feet (91 centimetres)," local police official Ganesh Rai told AFP.

An Israeli hiker trekking in the area, who avoided the disaster-struck route, told Ynet that "there was a crazy snowstorm over that route, so we decided to stay down here and not go up (to the mountain). After the snowstorm, avalanches started.


View Nepal - The Annapurna Circuit in a larger map

Nepal has been lashed by heavy rains for the past two days due to the impact of cyclone Hudhud that has battered neighbouring India. The weather triggered blizzards at high altitudes.

The avalanche hit the area on Tuesday, but with the area covered in 1-meter (3-foot) -deep snowfall, it took army rescuers from nearby training camps several hours to get there. The weather cleared up on Wednesday, allowing rescuers and trekkers to reach safer grounds, officials said.

Officials rescued 13 trekkers stranded in the storm after the weather cleared on Wednesday, but more than 100 other foreign tourists remain out of contact in Mustang district, Rai said.

He said a total of 168 tourists had registered to trek in Mustang along the highly-popular Annapurna circuit this week, of whom 152 were out of contact.

Bhandari said "the phone network is not very good so we have not been able to get in touch with the missing, but we hope to find them later today."

Chabad's messenger to Kathmandu, Rabbi Chezky Lifshitz, said there are currently some 200 Israelis trekking in northern Nepal.

"There was a snowstorm last night in the Annapurna mountain range and a lot of Israelis are trekking there, mostly in a trek called Annapurna Circuit, a trek that takes 14-17 days to complete," he said.

Rabbi Lifshitz said he got a lot of phone calls from worried hikers and parents.

"It's an unusual thing for there to be such extreme weather at this time of year. It's a good time for treks and the cyclone that got to India also invaded Kathmandu and surprised everyone," the rabbi said.

Officials said some 150 hikers are still believed to be out of contact because communication was disturbed by the bad weather.

The local military was using helicopters to rescue the hikers. The military was preparing an evacuation point in Pokhara that is located under the Annapurna Mountains.

The Kathmandu Chabad House is preparing to take in dozens of Israelis and visit others who sought medical treatment in hospitals in the area.

Thousands of trekkers visit the Annapurna region every October, when weather conditions are deemed favourable for hiking trips.

AFP and the Associated Press contributed to this report.