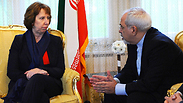 Iranian foreign minister Zarif meeting with EU foreign policy chief Ashton
Photo: EPA
US nuclear negotiators should stop focusing on Iran's number of centrifuges and should push for a deal, which could help build confidence between Iran and the coalition of countries fighting against Islamic State militants, a senior Iranian politician said on Wednesday.
"This is something like a trivial matter and we should not bargain over trivial matters," Iran's Parliament Speaker Ali Larijani, formerly Iran's top nuclear negotiator, told a news conference in Geneva. "This is not going to be useful, this is not going to solve any real problems."
The confidence-building Larijani said, could also help in efforts to combat the Islamic State. And while there is no natural, direct link between discussions over Iran's nuclear infrastructure and the struggle against Islamic State fighters, Larijani said, that the discussions "can be linked because there is confidence to be built here."
'Deal can still be reached by deadline'
A US State Department official said Wednesday world powers and Iran were not discussing extending the November 24 deadline for reaching an accord over Tehran's nuclear program, adding there was still time to strike a deal.

However, the State Department official said there were still some significant gaps in negotiating positions on Iran's uranium enrichment program: "We don't know if we'll be able to get to an agreement, we very well may not."

The official spoke ahead of a meeting on Wednesday between US Secretary of State John Kerry, Iranian Foreign Minister Mohammad Javad Zarif and European Union foreign policy chief Catherine Ashton in Vienna.

"We're not talking about extension or anything like that in the room. We're talking about getting this done by the 24th (of November)," the US official said.

Iran and the six major powers - the United States, France, Germany, China, Russia and Britain - aim to end a decade-old dispute over Tehran's nuclear program by a self-imposed November 24 deadline. The talks are centred on curbing Iran's atomic activities in exchange for a lifting of sanctions hurting its economy.

One of Iran's chief negotiators, Deputy Foreign Minister Abbas Araqchi, last week raised the possibility that the talks could be extended, and Russian Foreign Minister Sergei Lavrov on Tuesday said the deadline date was not "sacred".

"I'm sure that a compromise is possible," said Lavrov, during a visit to Paris where he met US Secretary of State John Kerry on Tuesday.

"I can't guarantee you that it would be reached by November 24. This date is not sacred," he told Russian television. "We are striving to reach a result before this date, but I'm sure that the main thing is not artificial schedules but the essence of the agreements. That is the main thing for us."

But the State Department official said: "There is still time to get this done. There's enough time to get the technical work done, to get the political agreement ... if everybody can make the decisions they need to."

"We keep chipping away ... In places gaps have narrowed, but the Iranians have some fundamental decisions to make."

Kerry said in Paris on Tuesday he did not believe that reaching a lasting accord within six weeks was out of reach, although he noted that many issues remained to be resolved.

Iran rejects Western allegations that it is seeking nuclear weapons capability, but has refused to halt uranium enrichment, and has been hit with US, EU and UN Security Council sanctions as a result.

Iranian Foreign Minister Mohammad Javad Zarif said the sides "might need more time" to discuss the issues and potential solutions, Iran's ISNA news agency reported on Wednesday.

"We are reviewing all the possible solutions to end the disputes. The fact that there are eye-catching disputes, does not mean they cannot be resolved," it quoted Zarif as saying after meeting Ashton in Vienna on Tuesday, where they will hold talks with Kerry on Wednesday.

"We have not reached a common conclusion yet, but I think it can be reached if there is a political will," he added.