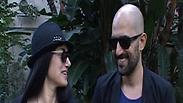 Ronit and Shlomi Elkabetz
Photo: Arik Alon
Israeli-French drama movie "Gett: The Trial of Viviane Amsalem," directed by siblings Ronit and Shlomi Elkabetz, won the Golden Starfish Award for Best Narrative Feature at the Hamptons International Film Festival in New York this week.

For the first time, the narrative jury decided to award a special jury prize for Outstanding Performance by an actress to Ronit Elkabetz, who stars in the movie as Viviane Amsalem.

Related stories:

"The final part in the trilogy by Israeli siblings Ronit and Shlomi Elkabetz was brilliantly written and acted, exposing reveals the slow dissolution of a marriage between Vivane and Elisha (Simon Abkarian) and the husband's control over his wife's fate," the jury explained.


"It's absolutely wonderful and exciting," said Ronit after learning of her victory. "The much important recognition that the film is receiving both locally and internationally does wonders. These are great prizes. (Receiving the) Best film and best actress awards made me very happy," she added.

The film was also screened at the 2014 Toronto International Film Festival, the Directors' Fortnight section of the 2014 Cannes Film Festival and has been selected as the Israeli entry for the Best Foreign Language Film at the 87th Academy Awards.

These are just some of the films that won the festival in previous years: Nowhere in Africa, Slumdog Millionaire and The Wrestler starring Mickey Rourke.