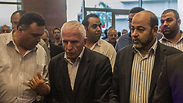 Palestinian delegation to Cairo
Photo: Reuters
Indirect ceasefire talks between Hamas and Israel will resume at the end of October, senior Hamas official Moussa Abu Marzook said Thursday.

Marzook said that the issue of a prisoner exchange was likely to be raised during the talks, but said the parties would not discuss it. "One day we will raise this issue for discussion," Marzook said.

According to Khalil Elahee, a member of the Hamas leadership in Gaza, the issue of prisoner exchange talks will be discussed in a separate channel from the talks regarding the relief efforts for the Strip. Hamas has refused to negotiate on the return of the bodies of two IDF soldiers killed during the 50-day Operation Protective Edge as part of the talks, and has insisted on a separate track.

Related stories:

Palestinian Authority Civil Affairs Minister Hussein al-Sheikh said Thursday that Israel has agreed for Turkey to place a ship off the coast of Gaza that will hold a power station, until the Strip's power station that was hit during the operation has been repaired.

In an interview to Palestinian newspaper al-Quds, al-Sheikh stressed that Israel has given its agreement in principle to the power station, and expressed the hope that this would translate to actual consent.

Israel and the Palestinians agreed in September to resume talks on cementing the Gaza ceasefire, allowing time for Palestinian factions to resolve internal differences that could threaten the Egyptian-mediated negotiations.