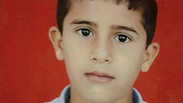 Palestinian youth killed by IDF fire
A 13-year-old Palestinian boy was killed on Thursday by IDF fire after he threw a Molotov cocktail during clashes in the Palestinian town of Beit Liqya in the West Bank.
In a separate incident, four firebombs were hurled at a residential building in Jerusalem. Also on Thursday, vandals threw firebombs at a police car and at a vehicle belonging to an Arab resident of Silwan in east Jerusalem.
In Beit Liqya, Bahaa Samir Badir (13) was killed during clashes that erupted between IDF troops and locals. The violence broke out when the forces entered the village after rioters threw stones at the security fence. An initial investigation by the IDF's Judea and Samaria Division revealed that local Palestinians began throwing firebombs at army jeeps that were leaving the area.
After one of the firebombs was hurled from a close range, the troops felt their lives were in danger and thus opened fire. No injuries were sustained by IDF soldiers. A Military Police investigation will be carried out into the incident.
Director Ahmed Betawai of the Ramallah Hospital said that 13-year-old Badir was shot three times in the chest and died of his wounds about two hours after the incident.
A senior Palestinian official said that the clashes between the town locals and IDF troops had erupted following the death of the boy.
Tensions between Israelis and Palestinians have spiked in recent days amid Palestinian charges that Israel is unfairly limiting access to Palestinian worshippers at a sensitive Jerusalem holy site.
In Jerusalem's Nof Zion neighborhood, Molotov cocktails were thrown at a building. Passersby reported that the rioters had attempted to throw one of the Molotov cocktails inside one of the building's rooms through a window.
A local resident said the neighborhood has been suffering from the escalation of violence. "It all started with Operation Protective Edge; people hurled rocks and Molotov cocktails and now it got worse."
He added that "in the past, a number of cars were burned by Molotov cocktails. Now there are security guards here patrolling the area, but they can't do anything against fireworks fired from a distance."
Earlier Thursday, stones were thrown at the light rail station in Shu'fat. No injuries or damages were reported.
In the morning hours, dozens of masked men, including children wearing school uniforms, threw fireworks and stones at Jewish housing projects in Ras al-Amud in East Jerusalem. Border Police officers used crowd dispersal means to clear the area. One officer sustained wounds to the neck from a firework and was evacuated to the Hadassah Har Hatzofim medical center in light to moderate condition.
Yoav Zitun, Roi Kais and AP contributed to this report.