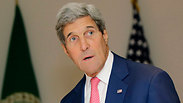 US Secretary of State John Kerry
Photo: AP
A senior Palestinian official called Saturday for Washington to develop a strategy to simultaneously combat radical Islamism while working to resolve the Israeli-Palestinian dispute – following US secretary of state's remarks on the link between the two ongoing conflicts.

"Linking the fight against terrorism and the end of the Israeli occupation is a strategic position that we support," said Yasser Abed Rabbo, the Secretary General of the PLO, who stressed that Kerry's statements reflected "the position of all the Arab leaders in the region."

The PLO was "ready to work hard with the American administration and in cooperation with all regional leaders to develop mechanisms to implement different levels of the strategic direction announced by Kerry," said Rabbo.

On Thursday night, US Secretary of State John Kerry reportedly linked lack of progress in peace talks between Israel and the Palestinians to the growth of the radical Islamic State group, saying "there wasn't a leader I met with in the region who didn't raise with me spontaneously the need to try to get peace between Israel and the Palestinians, because it was a cause of recruitment and of street anger and agitation."

Kerry, whose country leads an international coalition against the Islamic State group in Iraq and Syria, has drawn the ire of Israeli officials.

Economy Minister Naftali Bennett said Kerry's comment aids the group: "Terror should not be justified, terror should be fought."

"The claim that the Israeli-Palestinian conflict strengthens Daesh (the Arabic acronym for the Islamic State group) is an encouraging for global terror," Bennett added.

In his initial remarks, the top US diplomat drew a link between the ongoing conflict between Israel and the Palestinian factions and the increasing radicalization of the Muslim street. "People need to understand the connection. This has something to do with humiliation, denial and lack of dignity," he said Thursday, arguing that the Israeli-Palestinian conflict fueled "the anger on the street."

"Those who criticize Kerry want the terrorism of the Islamic state organization and continue to use it as an excuse to obstruct a political solution and an end to the occupation," charged Rabbo said of Kerry's critics.

Rabbo expressed hope that the apparent pivot in soft policy by Kerry would result in a vote on the Palestinian resolution in the UN's security council.

From Gaza, Hamas assured in a statement that international calls "to end the occupation and for the establishment of a Palestinian state was one of the fruits of the victory of the resistance in Gaza who presented the Palestinian issue on the front of the stage. "

The Islamist movement claimed victory at the end of a destructive 50-day conflict between the radical group and Israel.

AFP contributed to this report.