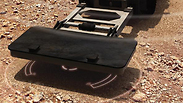 Israel Aerospace Industries released a simulation on Tuesday of the CIMS, a system designed to identify and locate mines and IEDs from a safe distance. The Counter IED and Mine Suite was developed by Elta, a subsidiary.

Currently the IDF relies on massive D9 bulldozers to leads its ground forces into combat by unearthing and absorbing the impact from hidden explosives. Still, Operation Protective Edge showed that no definitive solution has been found for dealing with such explosives during force maneuvers.

The IAI suite can be installed on nearly every combat vehicle from reconnaissance humvees to armored personnel carriers. The system is composed of two central components: ADS (Above-surface Detection System) and MIDS (underground Mine and IED Detection System).

The above and below approach to explosive detection, in real-time and in all weather conditions – regardless of terrain.

The Elta team worked tirelessly on the system for two and a half years of their own initiative after analyzing the potential demands of the security market, and not by request of defense establishments in Israel or abroad.

CIMS simulation

"We tried to understand what slows down the advance of forces during maneuvers," Ofer Sharon, the IAI project manager, told Ynet.

"We realized that the issue of IEDs was a central cause of delays. The system includes a firing position which can shoot explosive charges at the device to destroy it safely – for underground charges it will be easier to maneuver around them or call on engineering units from the convoy to disable them," he added.

Operating the underground scanner would limit the vehicle to 10 kilometers per hour, while using solely the above-ground component only limits the vehicle to 20 kilometers per hour – a reasonable speed for mobile force maneuvers in enemy territory.

"We believe operational tests would conclude by mid-2015 and production will begin in 2016," said Sharon. The system is expected to cost a few million dollars per unit.