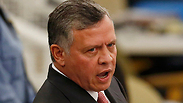 King Abdullah of Jordan
Photo: Reuters
Jordan is warning that an Israeli plan to allow Jewish prayer at the sensitive Temple Mount area could have disastrous consequences for the region. Jordanian Foreign Minister Nasser Judeh on Monday accused Israel of inflaming religious tensions over planned Jewish worship at the site.
The Temple Mount is holy to both Jews and Muslims, and managed by the Palestinian Authority under a long-standing arrangement.
Under the terms of the arrangement, Muslim worshipers are allowed to enter the Temple Mount complex throughout the entire day, but Jews are only allowed entry as visitors - not worshipers - in the mornings, only through a certain gate, and with police protection. Clashes between Muslim worshipers and police have resulted in restrictions on Palestinian entry to the site.
Related stories:
Days shy of the 20th anniversary of the Israel-Jordan peace agreement, Amman has launched a media blitz against what it terms "attempts to change the status quo at the al-Aqsa mosque." The claim comes amid recent clashes between Israelis and Palestinians in the Temple Mount area, and against a backdrop of reports of a Knesset bill that would permit Jews to pray at the site.
On Tuesday, King Abdullah and other high-ranking Jordanian officials heavily criticized the proposed changes.
Abdullah fiercely expressed his stance on the issue in a meeting with Jordanian parliament members on Monday, comparing "Islamic religious extremism" to "Zionist extremism."
"We are in a civil war within Islam. Today there exists Islamic extremism, but there is also a Zionist extremism," he said. "When I talk to my friends in Arab countries, Islamic countries and in the west, I tell them that if we want to fight extremism in the world we cannot say that Sunnis are the problem. There is extremism in all directions."
He warned that it would be impossible to combat Islamic fundamentalism whilst Israel was killing Palestinians with impunity.
"If we partner in an Arab-Islamic coalition designed to combat extremism within Islam, and the Israelis want to kill the children in Gaza and Jerusalem every five minutes, it is a problem," he said.
Meanwhile, the kingdom's UN ambassador, Dina Kawar, told the UN Security Council on Tuesday that Jordan would fight Israeli "violations" in all ways possible - diplomatic, political and legal. "Israel's actions in Jerusalem are in violation of International law," said Kawar.
The Jordanian ambassador wrote on her Twitter account that, "Israel must stop these provocative actions and its systematic attempts to create a new reality in Jerusalem. Israel knows that the Temple Mount is a red line not to be crossed for 1.5 billion Muslims around the world who will not remain silent amid these violations."
The Jordanian ambassador to the Palestinian Authority, Khaled Shawabkeh, also said that King Abdullah and the Jordanian government were making hasty efforts in the international Arab arena to block the ratification of the Knesset bill, proposed by Likud MK Miri Regev, which aims to divide the prayer times at the al-Aqsa mosque between Jews and Muslims.
"Al-Aqsa mosque and Jerusalem are a red line. What is happening in Jerusalem is not acceptable," Shawabkeh said.
On Monday, Foreign Minister Judeh voiced his complaints in a meeting with Norwegian counterpart Borge Brende. "Israeli violations in Jerusalem could destroy the peace process," he told Brende, "such flagrant and aggressive attacks will drag the region into a religious conflict that will subvert the peace prospects and fuel extremism, terrorism and violence in the region,"