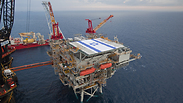 Israel's Tamar gas rig
Photo: Albatross
Jordan expects to finalize a deal next month with Noble Energy Inc to supply the kingdom with natural gas from Israel's Leviathan field, that could save at least $1.4 billion in the country's annual import energy bill, the energy minister said.

The kingdom is struggling to meet electricity demand which is growing by more than 7 percent due to a rising population and industrial expansion. At the same time, reducing losses at state electricity firm NEPCO are a key performance criterion in Jordan's 36-month standby loan deal with the IMF.

NEPCO piled up debts of 4.7 billion dinars ($6.6 billion) after it was forced to pay independent power producers for energy generated from costly diesel and heavy fuel, following disruptions to cheap Egyptian gas supplies.

"We are working on the long-term supply deal (with Noble Energy) but we have not yet decided the amounts and prices. We are aiming by mid-November to reach an agreement," energy minister Mohammad Hamed said in an interview.

NEPCO signed a letter of intent last September with Noble but the parties did not say when the deal would be finalized.

Under the mooted 15 year deal, gas would be transferred directly across the border with Israel following the completion of a pipeline and would likely start arriving by late 2017. While the price is still being negotiated, it is likely to be linked to Brent oil prices.

The kingdom's energy bill has soared to more than 4 billion dinars annually following the interruption of gas deliveries from Egypt, which it had relied on to generate over 80 percent of its electricity, forcing it to switch to more expensive imports of heavy fuel and diesel.

Egypt gas supplies have stopped completed since May, having been falling sharply since sabotage attacks on the network in Egypt's Sinai region since 2011 and bottlenecks in the country's own domestic market.
Preferred option
Jordan saw natural gas from huge gas reserves off the eastern Mediterranean coast as the preferred option to ease the country's energy crunch by the end of the decade, Hamed said.

It is also working to strike long-term gas deals with the Palestinian Authority, where BG Group Plc has rights to develop a gas field 30 km off the coast of Gaza, and with the Cypriot energy ministry, signing an agreement relating to gas reserves along its southern coast, Hamed said.

Jordan's over-reliance on Egyptian gas showed it was crucial to have more than one main source of energy, Hamed said. "It's crucial to have a diversity of gas resources."

Yet the Israeli gas deal, which would be the largest collaboration between the two countries since a 1994 peace treaty, has faced opposition from some senior lawmakers who say Israel should first deliver on peace pledges.

The kingdom has also recently signed a deal with Royal Dutch Shell to supply a $65 million LNG terminal, 18 km south of the Red Sea port of Aqaba, that will be completed next May.

The deal involves the supply of up to 600 million cubic feet per day, a medium-term relief measure to cut at least 500 million dinars annually from the energy import bill.

"It will make a big impact on the cost of producing electricity," Hamed said, adding the LNG shipments could cover as much as a third of the country's electricity generation.

"The cost of electricity is high and probably one of the highest in the Middle East," Hamed added. "It's huge and this growing pressure on our budget is not sustainable. We cannot continue with these losses."