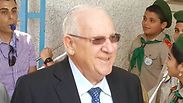 President Reuven Rivlin at Kafr Qasim
Photo: Hassan Shaalan
Reuven Rivlin became the first sitting Israeli president on Sunday to participate in an annual ceremony marking the Kafr Qasim massacre. "It was an atrocious massacre. A severe crime was perpetrated here. It is a dark and irregular episode in the relations between us, the Jews and Arabs who live here."

President Rivlin emphasized the importance of preserving positive ties between Arabs and Jews in Israel. "The Arab population in Israel is not a marginal group. It is an inseparable, integral part of this country. It will always be the secret ingredient in the Israeli society. We are destined to live side by side, we share the same future."

Rivlin had vowed to make the historic appearance during the election campaign and followed through on his promise despite criticism from his traditional base of support in the political right. However, many residents expect the president to take a further unprecedented step – apologize on behalf of the State of Israel.

The president met with the mayor and other officials at the ceremony marking the 58th anniversary of the massacre in the Arab town.




As has become tradition, black flags were hung around Kafr Qasim ahead of the ceremony.

In 2007, then-President Shimon Peres visited Kafr Qasim and extended an apology: "A most difficult incident happened here, which we deeply regret."

Despite the locals' hope for an official apology, Rivlin is not expected to formally apologize.

The massacre occurred on October 29, 1956, when Israeli Border Police officers shot to death 49 Kafr Qasim residents and injured 13, including women and children. At the time, a curfew was imposed on the Arab town, but unaware of the restrictive measure dozens of villagers returned to the village and were shot and killed.

The massacre sparked public protests which led to the trial of 13 soldiers, eight of whom were found guilty and sentenced to prison terms.

A senior activist from Kafr Qasim told Ynet that "at first, there was controversy over the president's visit," and explained that the general sentiment among the residents was that "if he does not recognize the massacre, it's best he does not come. It's time for the State of Israel to apologize for killing people in cold blood."

Among those supportive of the visit is Said Sarsur, a resident of the city. "I'm very pleased that the president will be visiting us in honor of the memorial service. This is a positive and welcome step."